J.Crew Factory previewed their new arrivals yesterday (with 30% off and free shipping). I had several items in my cart but glad I waited until today because a few items were lower priced than yesterday (I really dislike how they do that…but anyway…)
We're already seeing the migration in to pre-Fall, which is hard to swallow being that the temps (at least where I live) have been in the 90s lately. I was excited to see a few items that I missed in Retail last year showing back up in a Factory version. Here are my favorites:
Printed-tie neck top. This is a recycle from Retail…Factory's version is poly which is sad but I do really like this top and am sad I missed last year's version, so will probably check it out.
Emery flats in black patent – yes, yes YES! I have these in bronzed clay and while they're not the most comfy shoes ever, I love them, and a black patent pair would fill a much needed hole in my shoe wardrobe. I'm getting these before they sell out.
Cotton double-serge pencil skirt in vintage berry. LOVE this colorway – I have the Factory Teagan blouse in this color and this is one of my absolute favorite shades of pink.
Charley Sweater in pom-pom dot – another recycle from Retail that sold out quickly last year. Last year's version was 100% merino and the factory version is described as viscose/nylon/merino. Hm. I'm still giving it a shot, we'll see how it is.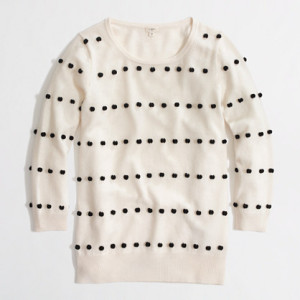 Printed pencil skirt in stretch cotton – this was hiding in the outfit obsessions section…love the gradient dots on this, reminds me of the optic dot top from Retail. Will probably wait for the price to drop on this before I check it out.
Ponte dress in velvet dot – another Retail recycle. It's probably too short but if there's enough room in the hem I would probably have it taken down, I think this is a dress I would get a lot of wear out of.
Skimmer pant in polka dot. Again, I think another Retail recycle? Or at least there was a skirt version I think…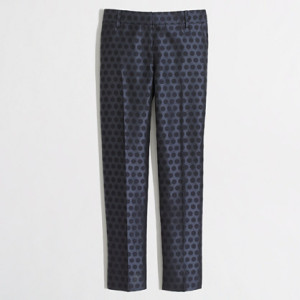 I love the printed flared skirts they're showing as well…but at 18″ long, they're wayy too short for me 🙁 Hmm…now that I have them lined up…talk about a theme – more polka dots! Black/grey/navy and a pop of pink…I can live with that 🙂 So that's it for me…what are you loving from this latest Factory rollout? Thanks for visiting!