Cue part 2 of my J.Crew shopping adventures this weekend…I hadn't been to the Retail store in a while (or at least since the new arrivals showed up) so even though my trip was mainly for a birthday present for my niece, I ended up in the dressing room with a ton of clothes. And I have to say – to all of you bloggers that post try-on photos in the dressing room, I give you props.  Whenever I try clothes on, I always feel disheveled from pulling tops over my head, and some days I have tons of luck, others not so much. But I really wanted to try and show some of my try-ons at the store…so here goes. Nothing came home with me but I definitely have a fall wishlist going. So, where to start? I think I'd divide this in to three parts – the good, the 'meh', and the ugly.
The Good – New Schoolboy Blazer in Black
I am a fan of the new schoolboy. This is the only item I'm wishing I had brought home with me, but I'm still kind of hoping for some sort of FP promotion. Not that I don't think I'll get my price per wear out of this black blazer, I'm regretting not grabbing it last year, although I like the sizing on this one better, so waiting was in my best interest. Last year's schoolboy I found myself having to size up to a 12 and it was still a little loose, but the 10 was too tight. I took a 10 in this blazer and it was perfect. I love the slightly longer length. The sleeves are rolled in this shot, that's how it was sitting on the hanger but they worked well. I'm pleased with the new design!
Silk Ruffle Top in Beanstalk Stripe $118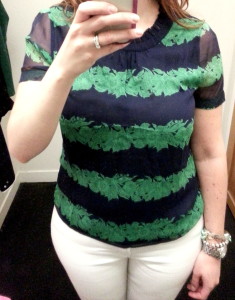 They only had this top in a 10, so I tried it since I can usually take a 10 or 12 in J.Crew blouses these days. I usually need a 12 for my chest but then I often end up with slightly droopy armholes. I would definitely need a 12 in this top – it was a bit snug in the shoulders. It's pretty though, I like the shape of it and it would definitely work in my closet. The SA tried to push the skirt on me but I knew looking at it that it would be too short. It's also fairly sheer, you can't see it in the picture but you can see right through it, even though it is lined underneath.
The 'Meh'

Tipped Gamine Dress $138
I had high hopes for this dress.  The shape looks flattering on the hanger, and it's 100% cotton. But… they stuck this weird seam right smack across the middle of the thigh area – why, J.Crew, why? It's tough to see in this picture but the seam is right about where my wrist is and causes that odd puckering on the dress. There's a tall version of this dress which I'm still contemplating trying, since I really liked this on the hanger. It will probably look amazing on ladies with a little less going on in the hip area than me. The extra horizontal seam just made it cling where it didn't need to. Meh. Maybe with tights and heels in the tall size. I like the tipped accent, but I think I would have liked this even more as a suiting dress in a wool crepe or gabardine, which I thought it was at first glance in the catalog. This is a size 12, I tried on a 10 as well and if it weren't for that seam, I didn't see much difference in the sizes, except maybe in the length. If you don't have hips like mine, you might be able to size down. Also, talk about a dirty dressing room mirror. Yikes.
Merino Boyfriend Sweater $88
Ok, so I'm a little new to the dressing room chronicles…I didn't take pics of all of the tags and of course this sweater is nowhere to be found online. One of the SAs referred to it as a boyfriend sweater, and the price was $88. I'd say that's accurate. The color combo on this is what caught my eye – striped on the front placket, all solid on the back (the light purple on the shoulders is the color of the back of the sweater). The size medium is on the left and is likely the more slouchier look this sweater is going for and I'm wearing a small on the right. It was ok through the body but a little tight in the sleeves.  This was cute, I think with different pants I might have liked it better. I'd consider it on sale.
And the ugly
Half-Placket Dress, $168
Talk about an instant frump machine. I can't believe I'm even posting this picture. You can even see on the website model how this dress gives her no shape. Same with me. Sizing down wouldn't have been an option, I had enough room in the skirt but I've tried on enough J.Crew dresses to know that my perfect dress would be a size 10 on top and a size 12 on bottom. It was also too short and I really thought the buttons and clasp on the top front of the dress should have been in the back. This might be one of those dresses you could get away with wearing backwards. Ok, maybe with a belt and maybe with some heels, but I'm doubtful. This was just not good.  And again, I'm sure there are ladies out there that this will look great on…me not so much. They do carry a tall version online, not sure I am interested enough to try a tall version.
I also tried on the wool No. 2 pencil skirt in Heather Pine, which was also a win. No pictures though. I found last year's wool pencils to fit a bit snug in my usual size, compared to the 2011 version, and this year I think is a bit closer to the 2011 version. Just my opinion.  The website lists the length on this skirt as 23 1/2 inches (and the tall at 21 1/2 inches…what?).  It hit me pretty much right at the knees. My store didn't have the piped pencil skirt but I have my eye on that too.
So, there you have it, a few Fall 2013 retail items. What do you think? Have you purchased anything from this latest collection? Would love to hear what you think and thanks for visiting!