I have to admit, I've been lacking in the inspiration department lately.  Or at least I feel like I've been.  I've had a bout of writer's block and I think it also is spilling over in to my wardrobe (perhaps a random association but it makes sense to me…). I'm not going to whine about it any more than that, but it is definitely frustrating. I've been waiting for that spark of inspiration – the moment when all of the items in my closet jump out at me and say "wear me! together!" or when whatever I'm writing starts writing itself –  that moment when the inspiration kicks in is incredibly fulfilling.  I know I'm just talking about clothes.  And short stories that I write just for fun…but I think this can have meaning in many other areas of life. These are just two primary examples right now and since my blog is well, primarily about clothes, there's my example.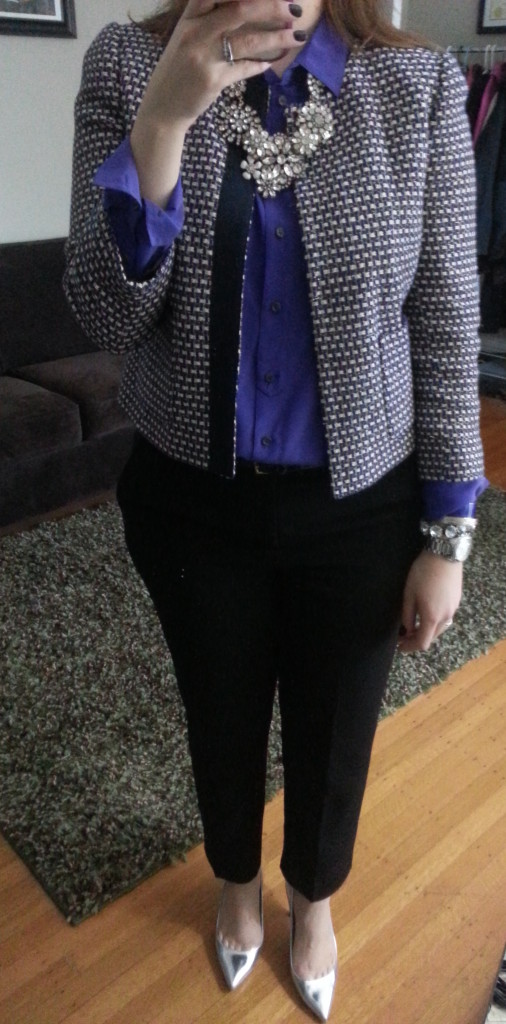 I love it when an outfit comes together – when all of the items of clothing just click and it works. Today, my new J.Crew inspired necklace was the item screaming "wear me!" and after enough iterations of finding the right shape of pants (my Banana Republic crepe ankle Martins and my J.Crew Everly mirror pumps…again) and combing through my clothes, I came up with this.  Finally, some inspiration.  I felt completely on my game today, and even though work is crazy and there are other random things going on that I wouldn't bore everyone with here, I had a pretty fierce outfit on and that pushed me through the day.  Ok, maybe a little cheesy but, I feel like the inspiration spark is finally back, so I'm trying to run with it while I have it!
Here's a closeup of this lovely necklace – an "inspired" version of the gorgeous J.Crew flower lattice necklace as well as the J.Crew Navy tweed jacket. I have the matching pants but have yet to wear them – I'm still working on ways to style this blazer. The blouse is the J.Crew Factory version of the Blythe blouse from last winter.
So, how about you? Do you have times when you've lost your inspiration? Any tips on how to get it back? Would love to hear what you think of the outfit too and thanks for visiting!!