I have to admit, I've always been a picky pattern person. I don't do a ton of florals, I tend to stick to my stripes, polka dots and plaids – and love to mix them up (more about that in another post!) I owned my stack of graphic tees when they were the thing to own but I haven't gotten much in to the "critter" sweaters or any other "cutesy" prints. So when I took a chance and ordered the J.Crew Factory bow blouse last month – this was a leap for me. I saw a lot of people raving online about the bows and while I have my share of bow shoes…I wasn't sure how I was going to do with a bow print. Sure, I love how it looks on everyone else, but me…not so sure. And it had a big bow at the neck? Wow, talk about a case of peer pressure to order this blouse, because I still hit the 'place order' button even though I wasn't totally sold.
I pulled it out a few times and was a little stumped on styling until on a Sunday evening session of choosing my outfits for the week, I decided to try this with the Maple Tweed skirt. And…well, here's the result. I have to say, I was pretty pleased. I did cover the neckline bow with a necklace…and I haven't worn the blouse since this outfit so I think I need the challenge of a second outfit.
And some details…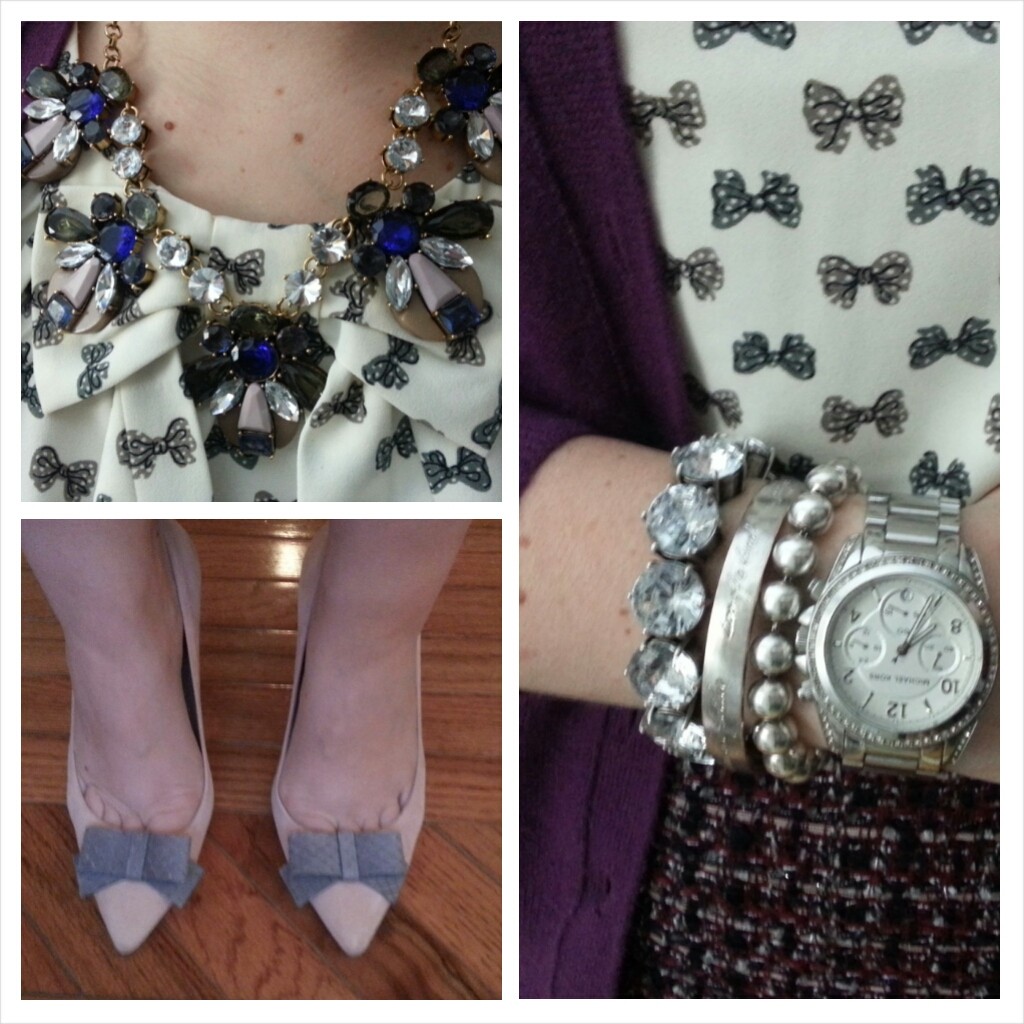 The outfit is all J.Crew….mostly from this past year except the cardigan is the J.Crew cashmere boyfriend sweater from a few years ago and the necklace I found via Groopdealz however it is a J.Crew "inspired" piece.
And finally, here' s another outfit where I "put a bow on it" in the way of a Target glitter bow belt and Groopdealz Kate Spade inspired bow bracelet.
So, there you have it…a few bow inspired outfits…and as I sit here writing, I've just added this J.Crew beauty to my shopping cart:
So, any outfit faves? Do you love bows or are they too girly and cute for you? Would love to hear what you think and thanks for visiting!