Hi there! I checked the extended forecast today and as much as I want to think about spring…we've got a little ways to go around here. So, since I've decided to do the Closet Remix challenge for February which means no new clothes, shoes or jewelry…I'm getting the most out of my winter outfits!!  With the cold temperatures lingering I am still all about the layers (I don't think I have much choice!) So here's a few of my favorites from the last few weeks:
I found this cashmere J.Crew sweater on eBay a few weeks ago and had to have it – I don't wear a ton of argyle  (not sure I totally love it on my chest but I'm embracing ME). It has a hint of pink and coordinated perfectly with my J.Crew Blythe blouse in shocking pink. Shocking pink is exactly the color of this blouse – it is BRIGHT. Just the way I like it. I paired with my Banana Republic ankle Jackson pants and the Crystal Cluster Necklace from Purple Peridot (J.Crew Factory inspired). Silver shoes were the finishing touch. I'm seriously starting to think that I am going to need a backup pair of these mirror pumps!
Sweater, Blouse, Shoes: J.Crew / Pants: Banana Republic / Necklace:  Purple Peridot
Another layer! Finished it up with a trusty J.Crew Schoolboy Blazer
And my arm candy courtesy of J.Crew Factory, Kate  Spade and Tiffany's
This was one of my favorite winter outfits – cozy and cute!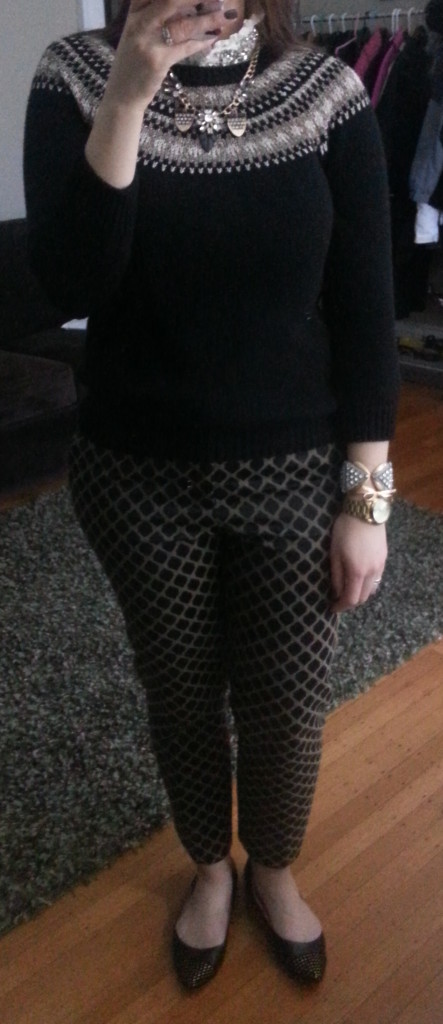 Sweater, Pants, Shoes : Banana Republic / , Blouse: J.Crew / Necklace: Purple Peridot
How great is this necklace? Another Purple Peridot stunner!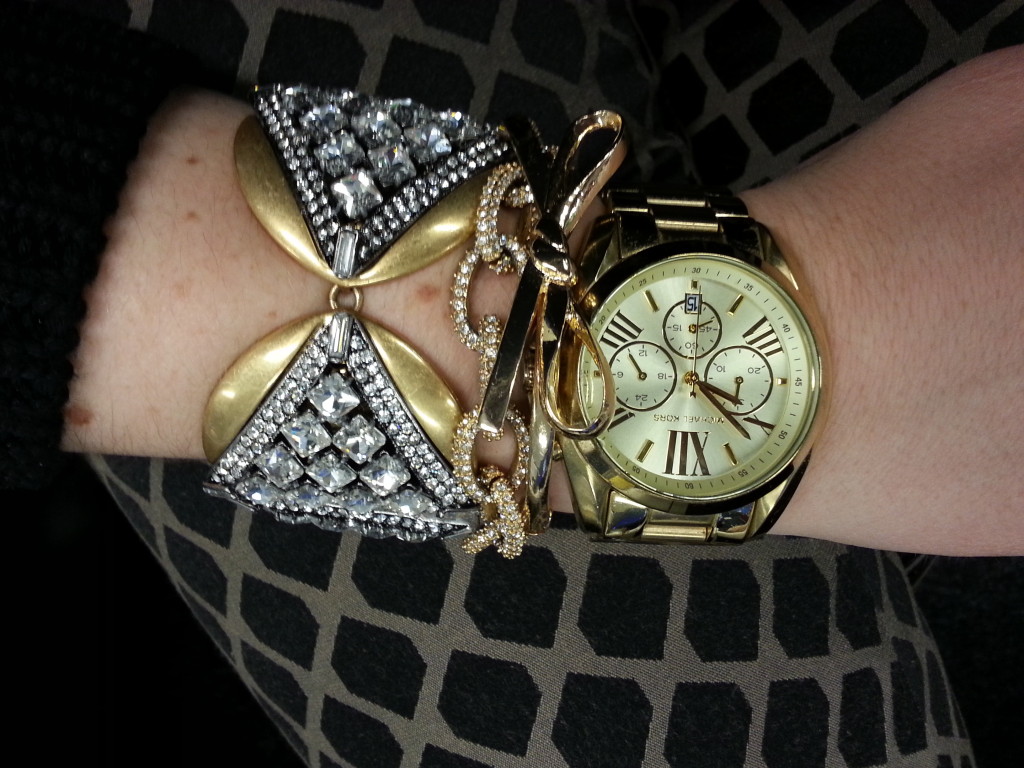 And my J.Crew Crystal Triangle Bracelet which was a surprise love.
Oh and here's when I decided I could wear a sweatshirt to work if worn the right way. J. Crew has taught me that such things are acceptable. And I think under a preppy blazer and a girly blouse underneath…you can totally get away with it.
Of course if you get up close you see it's a sweatshirt but come on…look at those cute bows!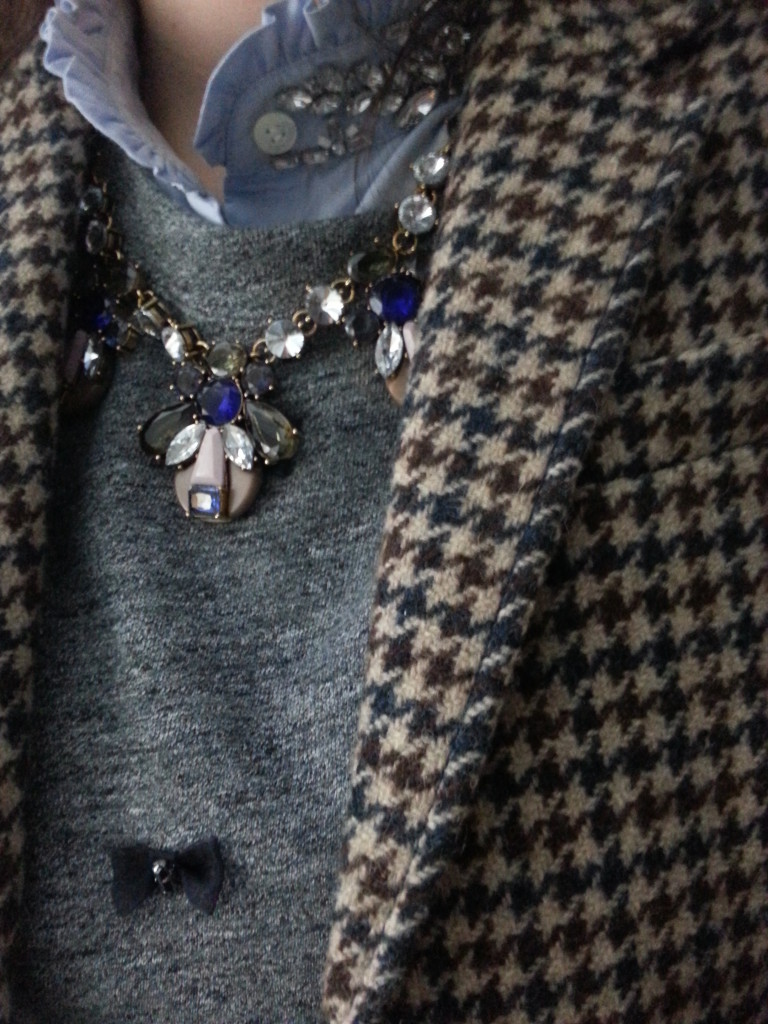 I want to wear this outfit again!! With another month of winter (at least…) I think this might have to go in the rotation one more time.
And finally…another weekend look in which I (probably foolishly) protest a coat. Sadly the weather turned to miserable rain as I was out but lucky I had my Hunter boots to keep my feet dry.
Sweater, Shirt: J.Crew / Vest: Coldwater Creek / Jeans: Gap / Boots: Hunter / Necklaces: J.Crew & Purple Peridot
So there you go, some of my recent layers! What do you think? Can I pull off a sweatshirt at work? Would love to hear what you think and thanks for visiting!