Hello! I know it's been a while…I have to admit that between the ease of posting on Instagram daily and the fact that my laptop has been out of commission since October, blogging hasn't been top priority. But…now that my laptop is back up and running and I stopped by J.Crew this afternoon and checked out some of the new arrivals, I figured this would be the perfect way to get back up and running. I wish I'd had a bit longer to try more on and more sizes, but this is my first pass at what I'm seeing as a promising spring line.
Here's what came in the dressing room with me. I am adoring all of the pastel shades this year.
I started with the tops since I was delaying baring my scary winter legs as long as possible. And I was rocking thick wool socks with my Chelsea boots. Not exactly ideal spring try on gear. But anyway…First up…the Eyelet Panel Sweater ($138).
This caught my eye immediately but I was hesitant because of the cropped style. I'm 5'8″ and haven't had a ton of luck with the cropped styles of late but I was wearing the J.Crew Lookout Highrise Jeans in Resin Wash (hard to see in the pic) so figured the higher waisted pants might be better with this top. I'm wearing a size large. Looking at the photos, I actually like this better in photos than I did in the dressing room. I might have been able to size down but I'm not confident of that, but I do lose a little bit of my shape in this. The cotton knit on this was significant and I liked the eyelet detail (I didn't check the tag to see if there was anything other than cotton in the fabric mix). I'm usually on the fence about eyelet details and this one passed for me. It's a nice stand on it's own piece and I could see a lot of people doing this justice. The thick knit would be beneficial for those of us with cooler temps. I'll try this one again in a M and L and perhaps wait for sale.
Next up…the Sequin Floral Sweater ($138).
 My store had two colors in this sweater, the heather oatmeal (shown) and rustic mint. I see there's a third color, heather aluminum (read: grey) with lavender flowers which would have been my first choice had I seen it in store. Again, cropped length and not a dropped sleeve per se since there's no seam on the shoulder but these sleeves made my arms look way bigger than they are (and nobody needs that). I probably could have sized down in this and I think doing so would have given it a closer look than the model, however I still fear the cropped look on me. I'd say you should go with your smaller size. Here's a close up of the sleeve: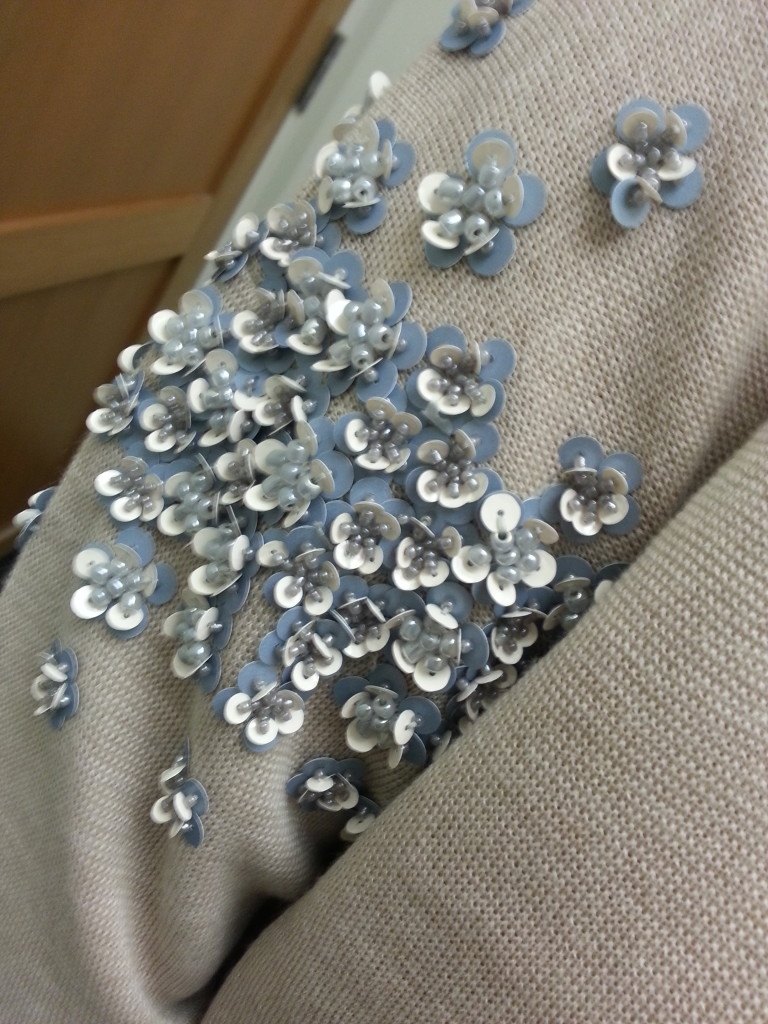 I think this will look really cute on some people…it just wasn't for me. The knit was substantial , and it was a comfortable weight for spring.
Now, on to the scary winter legs portion of the program. I'm wearing the Drapey Oxford Crepe Cap Sleeve top ($88) in rustic mint and the Pleated Midi Skirt in Stripe ($110), both in size 12. The blouse is similar to the Sleeveless Drapey Top but fits more true to size and has a bit more structure with it being oxford cotton er lyocell and viscose. I guess if I'm going to get on the midi skirt trend, this will be the year because I'm seeing them everywhere. This is where I wish I'd had some cute wedges or heels because I think they would complete the outfit. The skirt is 100% polyester and fully lined and it was static central in the dry cold weather.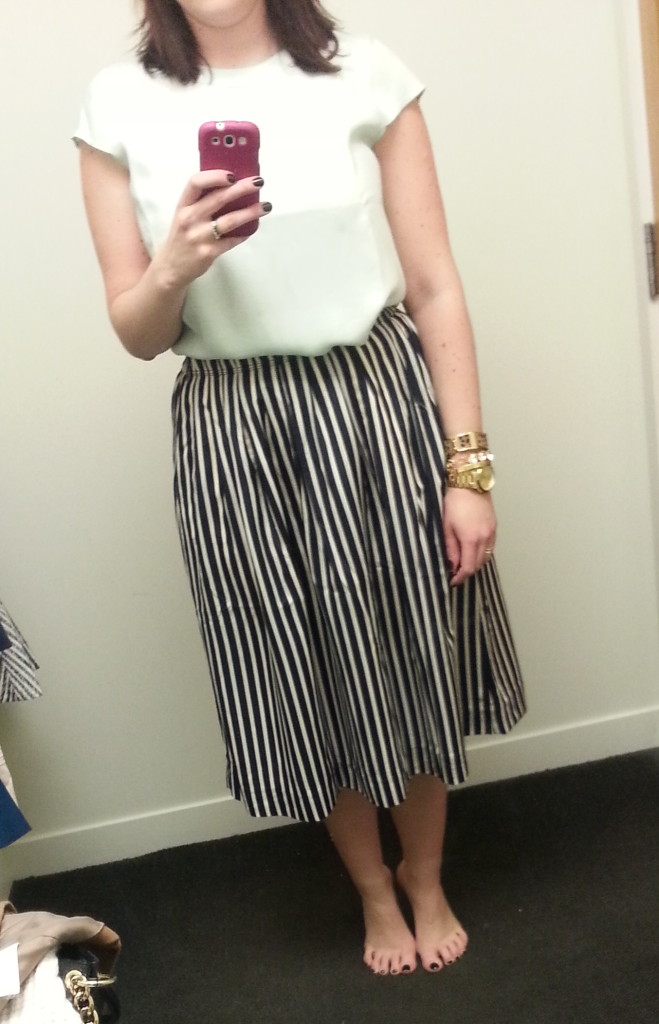 I didn't hate the elastic waist but I worry about styling tops. It's a new style for me, so I think playing around with options will be key. I think I'd want to tuck something in to capture my waist, but I can see people wearing more of a cropped top with it as well. The website model shows it with a tucked in merino sweater – so I think this may be a great pairing for the dozens of Tippi sweaters in my closet. The more I look at this skirt, the more I want to make it work!
Next up is the same Pleated Midi Skirt in Metallic Voile in size 12 ($88).
Clearly the new items still need to be steamed. The SA at my store said she would be wearing this to an upcoming wedding. It wasn't a must have for me, but styled right I could see this being a winner and in person it was much less shiny than it's coming across in this photo. It's exactly as described – cotton voile with a metallic shimmer. Again, heels are a must with these skirts. The angles of these photos are a bit deceiving, I'd say they hit below my knee.
The blush pink shade of the Pleated Chiffon T-Shirt Dress ($148) caught my eye and even though I never seem to hit it right with J.Crew's shift dresses, I thought I'd give it a try. I tried on the 12 in this dress. It retails for $148 and comes in navy as well.
This dress is 100% poly and looks like it would be a total snag fest. Considering that it was a little loose on top and just a tad too snug in the bottom, I'd say they're cutting this dress a little more generous as generally I'd barely be able to get a dress this style over my hips. Mayyyybe with some shapewear I could make this work and I think it will look great on some slimmer ladies, I'm just not sure it was for me. I would have preferred a more structured sleeve on this as well. The color was a win.
Last up on the dress front – the Tweed Stripe Drop Waist Dress.($168)
I almost passed this dress by as the dropped waist style doesn't often work on me but I loved this dress. Hard to see in this photo but it hit above the knee on me, but I wouldn't hesitate wearing it to work in the summer with heels and a cardigan or jacket. I'm wearing a size 12 in this dress and it was a perfect fit. This is at the top of my list from this rollout. Here's a closeup of the material. While mostly pure white and black, there were some threads of ivory running through the tweed as well.
Last up…the Structured Flutter Tee. ($55) This isn't new new but it caught my eye and looked like a slightly different version of a peplum top. This is a size large – I wish I had tried a medium, this is definitely too loose. I'm almost always a large these days (size 12) but with the oversized nature of a lot of the slouchy tops, I usually have to try both sides. With the structured look of this top I would have almost guaranteed that I'd need a large but in line with the online reviews, the medium would have been better. Wishlisting this one, I think it will be cute with jeans, cafe capris and pencil skirts.
A few items not in the photos…the Ryder Pants  – big thumbs up. The poor dressing room lighting made it hard to get a good photo of these pants, I'll try when I have a pair at home. I took my usual pant size and these are a great full length non-suit pant. The lighting in the dressing rooms at my Crew are not the best so I had trouble capturing the photos. But they're definitely on my list!
I also tried the Jet Set Geo shift dress and this was wayyy too short on me. The online photo shows the length as above knee but it hit me mid-thigh. I liked the print, maybe with leggings, but I just wasn't feeling it. And the material was flimsy. So this was a pass. And nobody wanted to see that much of my winter leg.
So that's it, my first pass at the March 2015 new arrivals. My store was in a bit of disarray when I stopped in today so I think I'll need another trip to try more sizes and spend more time looking at new items after I've had sufficient time to scrutinize them in the style guide and online. Now that my laptop is up and running I hope to be a bit better about sharing my latest J.Crew loves and other fashion. How about you? What are you loving from this recent J.Crew rollout? Would love to hear what you think and thanks for visiting!