Hi! I know it's been a while, and don't fear, there are J.Crew new arrival photos coming soon. I've been in major brainstorm mode when it comes to the blog, so watch for some fun additions and changes coming soon. In the meantime, I wanted to share a few photos and my look from the Buffalo State College Runway 10.0 fashion show last night. My good friends Emily and Holly at Lace & Day invited me to join them for the evening and I immediately accepted the invitation. I could write a whole post about how much I love these two women and how they helped change the way I look and feel in my clothing (for the better). If you live in Buffalo…go visit them. Trust me. I'm somewhat ashamed to say this was the first local fashion event I've attended but I don't intend for it to be my last.
Shirt: J.Crew / Skirt: J.Crew (sold out, similar here ) / Shoes: Nine West / Necklace: J.Crew (sold out, similar here and here) / Bag: Banana Republic (sold out, similar here, here and here) / Lipstick: Christian Louboutin (similar Bite Beauty lipstick)
Naturally, as soon as I said yes to the invitation, my next thought was, what to wear?! Since I'm still transitioning the majority of my closet, I went straight in to online shopping mode. And well…let's face it. Even if I had a full closet, I probably would have gone in to shopping mode. I was poking around the J.Crew website and saw this skirt in the sale section with only my size available and well…the rest is history. The website photo showed it with a light blue top and beige/black shoes. I knew I had nude colored sandals and I had a button down chambray shirt that would work for a blue shirt. A statement necklace and some red lipstick would finish off the look.
The vision for this outfit came together pretty quickly in my head. Once I was committed, I wasn't straying. I had a backup outfit planned but I knew if the skirt showed up and fit (which it did, like a glove) I'd be good to go. Now, if I can only figure out how to not have red lipstick on my teeth, I'd be all set. I am in love with this skirt and can't wait to figure out other ways to style it for the office and other weekend events. I probably won't get a ton of wear out of it as the weather gets warmer but I'll look forward to pulling it out when the weather cools down again.
Now…on to the event. The fashion show is put on by Buffalo State College's Fashion and Textile Technology department with all proceeds going towards their scholarship fund. I attended the VIP experience which included a pre-party with food and drinks by local vendors in a corridor decorated in a funky cardboard motif, using lighting to enhance the space.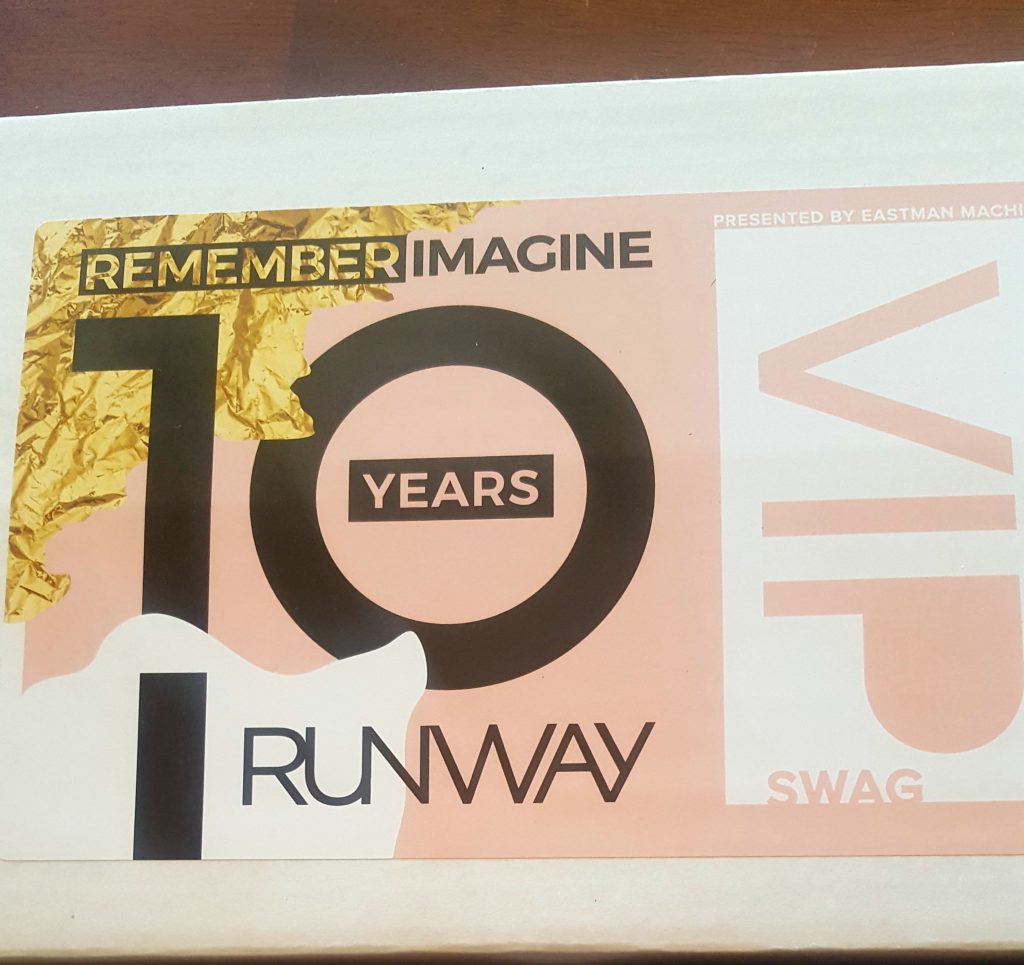 VIP Swag Boxes with local goodies!
The theme of this year's Runway show was Remember Imagine to commemorate the 10 year anniversary of the show. A selection of alumni, students as well as visiting designers showed their collections. 90% of the photos I tried to take came out with the models looking light bright white lights so…I guess I have some work to do in the photography department. But, I tried to not spend the entire time with my face in my phone taking photos to enjoy the show. And now the photos I do have don't seem to want to upload tonight. At any rate, I thoroughly enjoyed the show which was a mix of inspirations from historical events and thinking about fashion in minimalistic, futuristic and sustainable ways. The talent showcased was impressive and I look forward to attending future events.
So, what did you think of my look for the event? Have you ever attended this event? Would love to hear what you think and thanks for stopping by!