Hi! Believe it or not, we are now down to the last summer rollout of 2017. Where is the time going? Since July marks the first "pre-fall" rollout (which always has a few warm weather items) this is the last "official" summer rollout! At first glance, I was a bit overwhelmed at all of the ruffles and off-the-shoulder that we're still seeing everywhere, but in typical J.Crew fashion, once I dig around a bit, I always find items to love.
First up, the Ruffle Top in Chambray.
Jeans: Factory High-Rise Skinny Jean / Sandals: Lace-Up Suede Sandals
I sized down to a 4 in this top. The ruffles on this seemed a bit overwhelming to me, so I could see if you're petite it might be a bit much. But I have since seen it on several other people online and really liked it. It's a bit much for me and would be a weekend top since I don't think it would go well with a blazer (although I admittedly didn't try it). I like the darker color of the chambray though and it is a longer length. If it's your style, with white jeans and neutral sandals this is a solid summer outfit. It's lightweight but not flimsy.
Next up is the Collection Thomas Mason® for J.Crew top with tulle trim paired with the Denim Skirt with Raw Hem.
My store had a few of these tops and I knew it needed to be in my closet immediately. I'm a little late to the Thomas Mason game, but I know the items usually sell fast and get good reviews. I have admired the other tulle dot items in the recent collections and I thought this was the perfect touch to a polished dress shirt. I took my usual size 6 in the blouse. I am wearing the blouse today with the ornate floral skirt and I did choose to wear a nude tank underneath but I think I could have gotten away without wearing one if necessary. As for the skirt, I've been back and forth debating on this skirt as I practically lived in my denim pencil skirt last year and wasn't sure about the shorter length of this one. But I keep going back to this one, and even though it's a little shorter, it's a nice alternative to shorts. I'm wearing a size 29 which is my current denim size in both the high rise skinny and boyfriend style jeans. Both items came home with me and I've already worn both! I was really trying to not buy as much this summer and while I have pared down significantly the one thing I am finding is I'm pretty good in the work clothing department but not so much on the casual summer clothing. More on that later. And here's the detail on this beautiful blouse.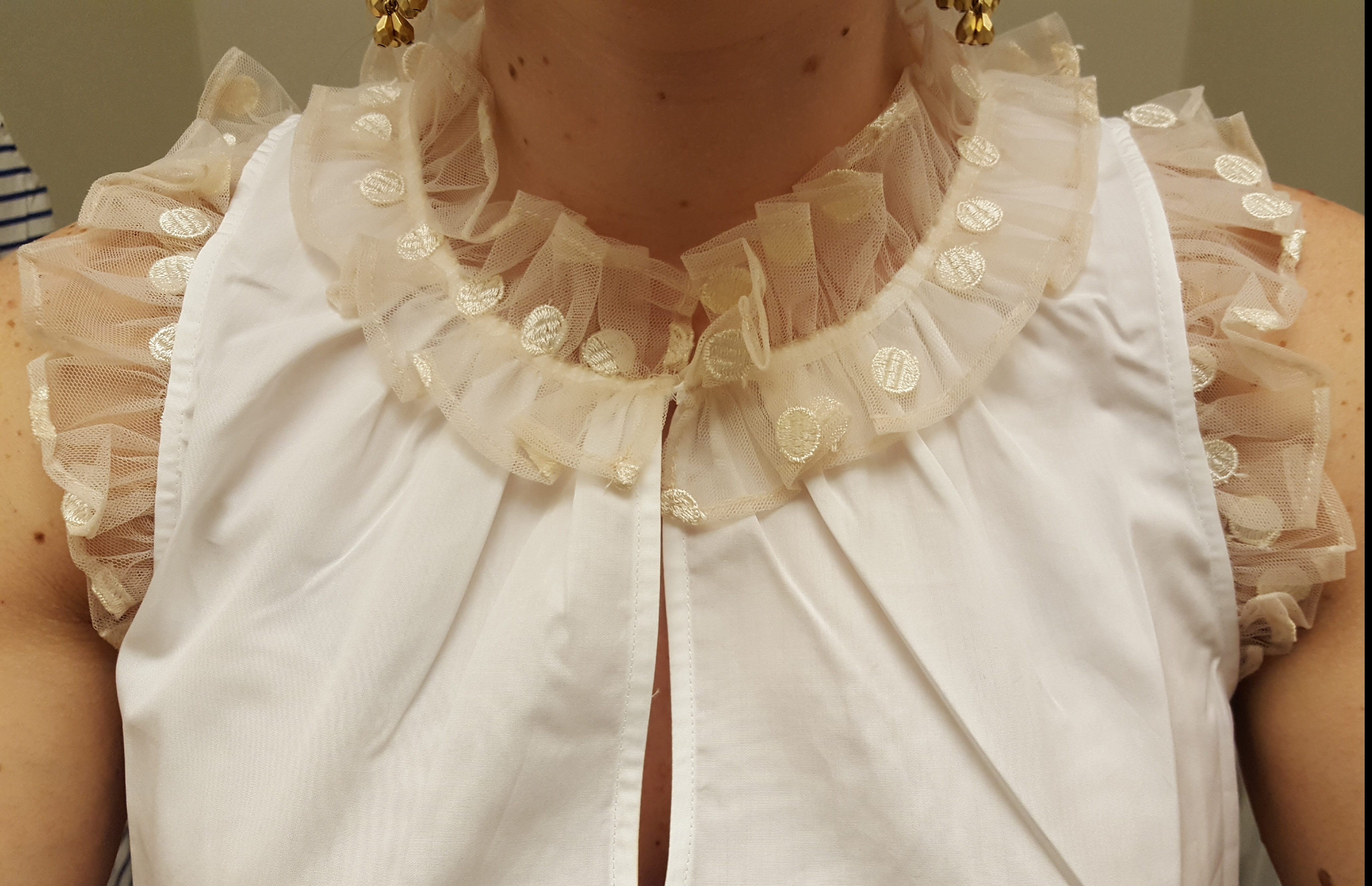 Next up, the Striped Dress with Eyelet.
This was cute but I absolutely do not need another striped dress since I purchased two earlier this season that have yet to be worn. I'm wearing a small in this dress which is a bit tight in my hip area but perfect in the chest area. I would prefer the bottom of a medium and the small of a top. It's a straight fit and no stretch as it's 100% cotton. The eyelet detail is pretty and the lighter blue stripes is a nice change from the standard navy. I'm grateful for a hidden zipper which is a cleaner look and there's a keyhole with a button for the top part.
Next up, the Linen Jumpsuit with Tie.
This jumpsuit also killed my "I don't need more summer clothes" mantra. I had to have this. I have to say it was even more flattering in person than in the photos and it'll look even better with the right bra. I'm wearing a size 6 which is my dress/top size (I'm an 8 in bottoms usually) and that was a perfect fit. I expected the wide legs to be frumpy but they were a good length on my 5'8″ frame. This also comes in a striped version which is selling fast. The straps are adjustable which is always a plus and overall I found this to be a really flattering piece. I'm looking forward to finding reasons to wear this over the summer because if I'm spending money on summer clothes I'm making a point to wear them!
Next up, the Strapless Cross-Front Top.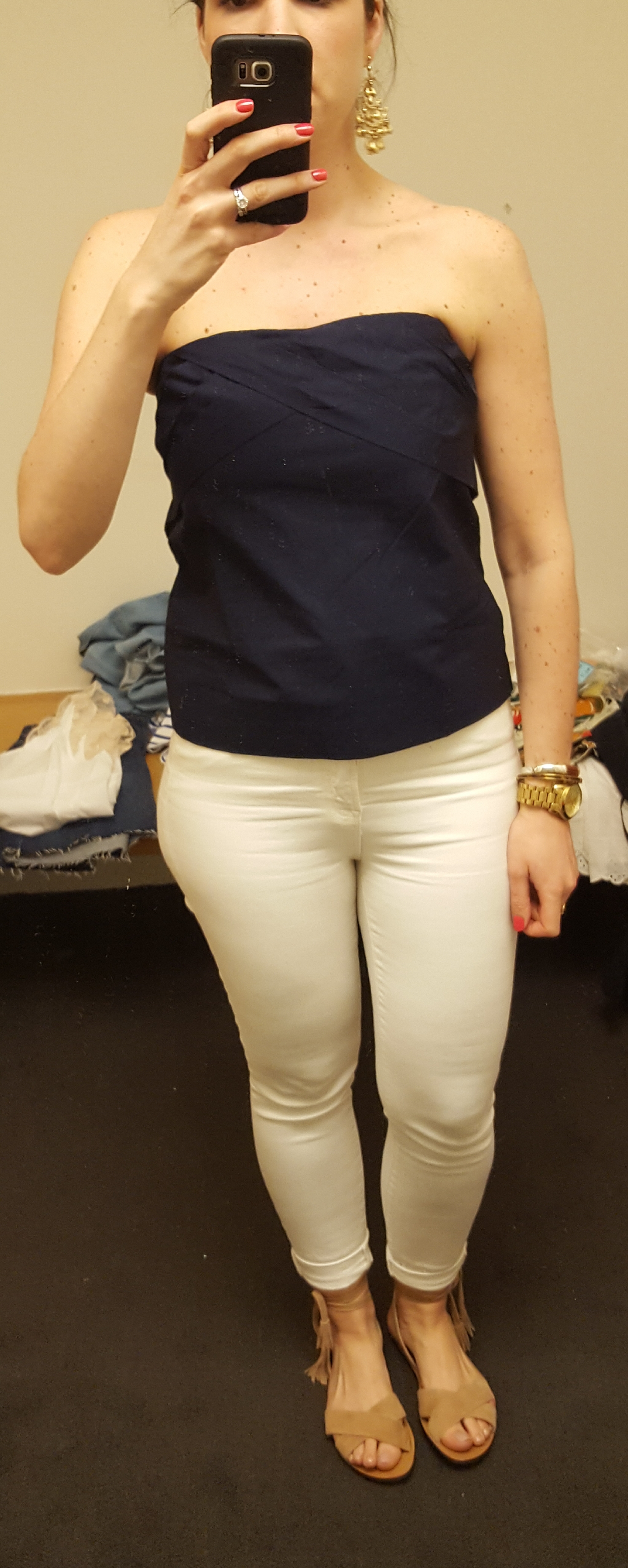 I almost didn't try this on. I'd seen it on Instagram and liked it on others, but in person it looked short on the hanger. I'm glad I tried it though because I was immediately sold. It looks a little bunchy in this photo because I have my bra straps tucked in to it, but with the high waist jeans it was the perfect combination. It also comes in fiery sunset. According to the website description, it's a resurrection of an older top. Come on J.Crew, keep resurrecting the good items! I took my regular top size in a 6. It has a hidden half zip in the back and some elastic around the back and seemed like it would be comfortable. This will be perfect for hot summer nights and I can toss my hair up with some fun earrings, white jeans and look put together.
Next up, the Button-Front Ruffle Top.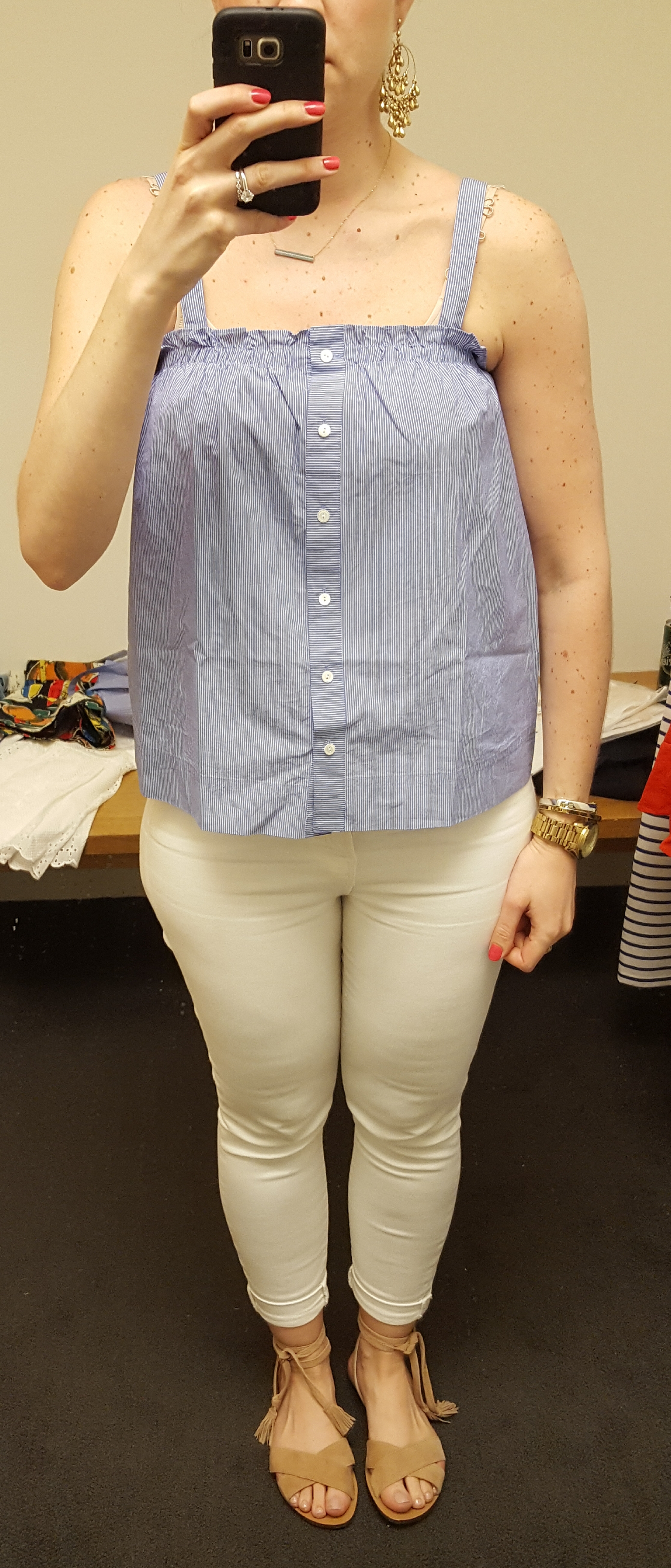 I tried a 6 first in this and you could have fit two of me in the shirt. This is a 4 and still a little wide. I'm personally not a fan of this top, it does nothing for my figure. The straps are adjustable with buttons inside the top which is a nice touch and it isn't flimsy, it's a mid weight shirting fabric. This also comes in a green stripe but it was a pass for me.
Lastly, the Linen Ruffle Skirt in bright hibiscus and Vintage Cotton T-Shirt in Postcard Print.
I tried the skirt out of sheer curiosity. I'm not an orange person and the skirt was a little too cutesy for me but I think for some people it will be a great summer piece. I felt like I should be at a beachside stand selling fruit. This also comes in white and navy in petite and tall. I think I would have preferred a tall in the skirt if it was something I was interested in. The navy seems to be selling fast online. The orange was a bit bright for me – it's a little brighter than the fiery sunset shade. I'm wearing a medium in the tee which was a good fit so I'd say it runs a bit on the small side. It was lightweight as the other vintage cotton tees are. The only other item I tried in the postcard print was the shorts and they were too short for comfort for me (3″ inseam) but the size 8 which is my pants size worked in the shorts if you're ok with the length. I'm personally not a fan of the print so didn't try any of the other pieces.
Well, there you have it, some highlights from the latest summer rollout. Do you have any favorites? Would love to hear what you think and thanks for stopping by!