Hello! It's that time again. Summer is flying by and fall clothes are upon us. I admittedly wasn't blown away by a lot of the latest new arrivals, and I did skip a lot of things to try because I know that I won't wear them. At this point, I am focused on rebuilding some wardrobe basics for fall, but a few things ended up surprising me when I stopped in to my store for try-ons.
The first of the surprise "loves" for me was the Collection Pleated Skirt in Natural Denim with Leather.
Shoes: Audrey Flats in Suede
My SA handed me the skirt to try and I wrinkled my nose at her. Mmm…not sure about this one. But then I put it on and was pleasantly surprised. I am wearing an 8 in this photo but had some room in the waist so would go with a 6 which is my dress /non-pencil skirt size. I tried it on with a V-neck cross front bodysuit (also comes in grey, don't see it on the website yet, item number is G8312 and it is $49.50) and am wearing a small in that which is true to size with my top size. I like how the skirt is styled on the website with a higher neck black top and one of the SAs had this exact outfit on with the suede Colette heels and I was in love. The buttons are still covered in the photo from the packaging but they're black and the leather trim is a beautiful detail. The paper bag waist can be a hit or miss depending on the rest of the garment but the effect on this one is immediately slimming. I may have already caved and ordered this one.
Next up is the Pleated Ombré Skirt.
This is another one I didn't necessarily have my eye on but I liked it better than I thought I would. I don't think I would get enough wear out of it but I found the pleats to be flattering and I think it would have been better with heels and a non button down blouse. I'm wearing a size 6. The colors are fun and I think it would be a good party skirt. The dress has a very thin grosgrain ribbon waistband and it zips.
Next up, the Sweater with Ruffle Sleeves.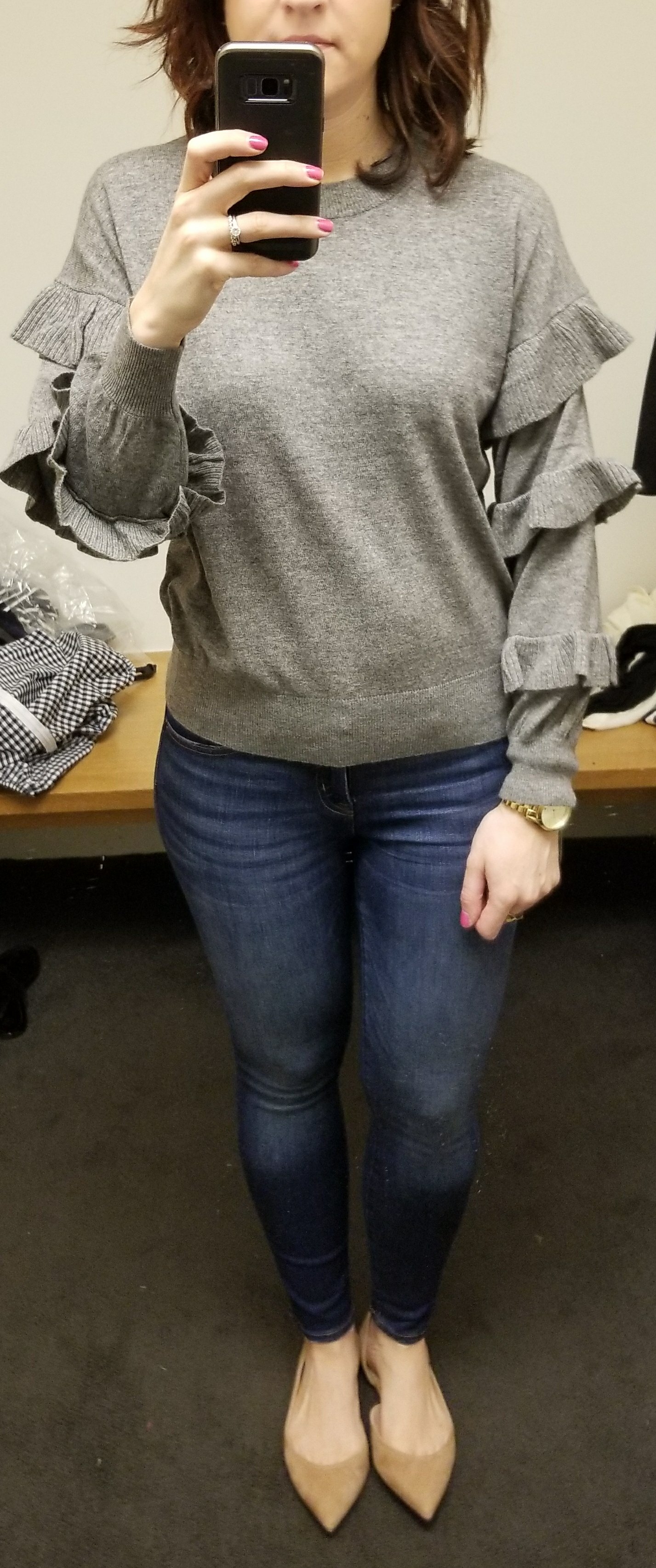 Again, this is one of those items that I tried on to try on. I think some people will be able to pull this off but it wasn't for me. The sweater is a wool/acrylic/nylon blend like many sweaters of late. I'm wearing a small and it was a little roomy but not roomy enough to size down. It wasn't scratchy but isn't a super soft merino wool either like the Tippi sweaters. I'm wearing the sweater with the Toothpick Jean in Lyric Wash which I am absolutely in love with. I like that these are a good mid-wash without a lot of whiskering and the fit on them is fantastic. I have been a 28 in the high rise skinny/boyfriend jeans these days but I took a 29 in these. They're ever so slightly big in the waist but my legs wouldn't be able to squeeze in to a smaller size. I swore up and down that I was DONE buying jeans for this fall…but these came home with me.
Next up, the Parke Blazer with the New Easy Pant in Matte Crepe.

I was underwhelmed by this blazer on the website, I think mostly because I wasn't sure about the camel color but once I put on the black one I was sold. I'm wearing a 6 which is my dress/blazer size and the fit was perfect. If you're between sizes, you may need to go up because it is a slimmer fit. I love the thinner lapels on this and it's very tuxedo style and I can see wearing this on the weekend or to work. I was also eager to try the pants because I have the pull on version and like these a lot. The rise on these is higher and the size 8 worked for me which is my pant size. I tried the 6 and they technically fit (I'm wearing the 6 in this photo) but my preference on the drape of the pants was the 8. If you don't have a lot of hip/rear area you could wear the smaller of your two pant sizes. I am curious to try the Cameron pant after seeing them on another customer who had ordered them and tried them on in the store, although I am a huge Banana Republic Sloan pant fan so it'll take a lot to match that.
Next up, the Camouflage Foundry Pant.

I have already caved and ordered the Cargo Toothpick in Camo (which I'll post a photo of soon) so these weren't really on my radar. But there were a pair hanging out so I gave them a try. I was able to fit in to a 6 due to the wider leg. I think either you'll be a fan of the skinny ones or the wide leg ones. I think these need a heel and I liked the look of them better with a wide cuff, similar to how they're shown on the website.
Next up, the V-Neck Sweater with Shirt Cuffs.
This caught my eye right away, similar to the collared Tippi. And I love a good grey sweater. I'm wearing a size small but it's still a good slouchy, I wouldn't size down. I like the wider cuff. It's a wool blend similar to the ruffle sweater and I'll be interested to see how the wool holds up. I restrained with this one as I think it'll hit sale but I loved it with the jeans. I could swing it on a more casual Friday to work with slim cut pants and flats.
Next up, the Tippi Sweater in Sequin Flowers.
I tried this to try it on. The print isn't for me, but I know there are fans out there. I wish they hadn't added the sequins, they are completely unnecessary. I'm wearing a size small which is my usual Tippi size these days.
Next up, the Tippi Sweater in Printed Hearts.
Ditto on this Tippi, the print isn't for me. This one at least reads more fall to me. Same fit as the other Tippi.
Last up, the Silk Ruffle-Bib Top in Fall Floral.
This color scheme isn't really my thing and I know it's a recycle of an old print which some people may appreciate if they missed the first go around. The silk on the top is a decent weight, not super thin. I took my regular blouse size 6 in this. The ruffles are subdued which is nice. I wish I liked the print, I always love adding silk printed blouses from J.Crew to my wardrobe rotation, but this one isn't for me.
Ok, that's it for now, I am losing steam! How about you…any loves from this rollout? Misses? Would love to hear what you think and thanks for stopping by!