Hello blog world! I know I've been seriously neglecting this space of the interwebs and right now I'm blaming my busy season at work and the ease of Instagram for posting my daily outfits. But I'm not giving up – there are just so many hours in a day. I have to say I did a solid job of outfit planning this week- I actually planned my entire week of outfits on Sunday night. But regardless, there are always tweaks, and sometimes what I think looks good in my head needs a few changes before it's perfect…I think of it as the evolution of an outfit – add a jacket, key accessory, switch up the shoes, and you're good to go. I have time for tweaking in the morning before work – I do not always have time for full out planning. Earlier this week I was planning on (finally) wearing my J.Crew maple tweed pencil skirt – the photos in these pics don't really do this skirt justice – it is gorgeous. There are so many possibilities with this skirt. I immediately went to navy with it but after searching through my closet really liked how the burgundy made it pop – so why not do both? And I might as well toss a pattern in there – the polka dots worked really well with the tweed. Here's the website photo of this lovely skirt.
I originally planned to wear the outfit like this:
I'm wearing the J.Crew Mona Mary Janes in navy from last year, the J.Crew Factory version of the tie neck blouse and the J.Crew Factory Charley sweater in heather burgundy. This sweater is the Factory version of the Tippi and I find them to be nearly identical for half the price (win!) I felt a little like a flight attendant with the tie neck and the crewneck but I liked it.
So I tried it without the sweater which I actually really like – and had it not been 25 degrees out Monday morning I might have gone with this option. But…I snapped back in to reality and put the crewneck back on. But I wasn't totally sold…so…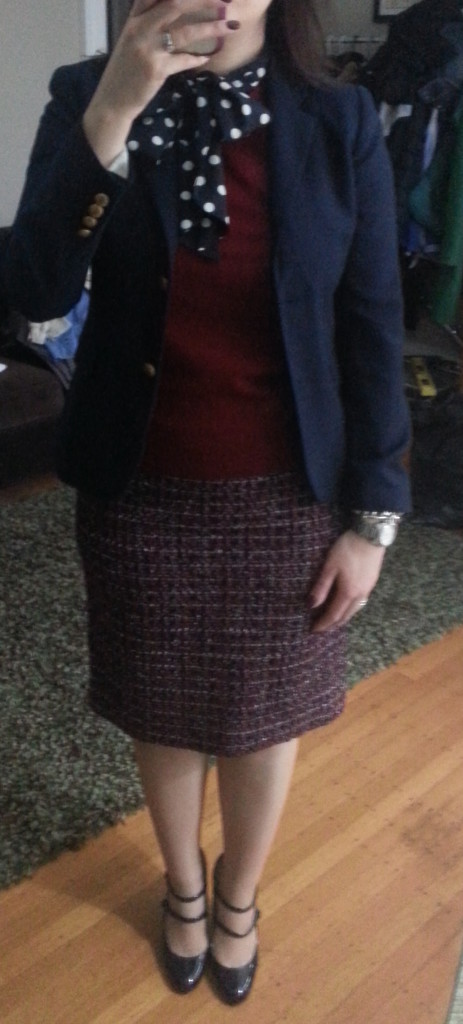 Ta-da! I added a J.Crew Schoolboy blazer in navy and I was sold. I'm convinced blazers cure any outfit and add that final polish I was looking for. Here's a closeup of the skirt detail and my shoes:
So there you have it…the evolution of an outfit. How about you – do you make changes/tweaks to outfits you thought would look good in your head after you try them on? Which option would you have chosen? Would love to hear what you think and thanks for visiting!