I've had my eye on these shoes since they rolled out earlier this fall and once they dropped in price + 40% off, I decided they had to be mine. I am a big fan of the Everly pump, and if my budget allowed, I would own many more pairs than I already do! I find them to be very comfortable for pumps and with the exception of the silver metallic ones,  I can definitely go all day at work in these shoes. These shoes scream holiday to me, with the suede and gold combo, but I think I'll get a lot of wear during the fall/winter out of these.
Per the website photo, I thought these were going to have a much brighter gold toe. Darn that washed out J.Crew website.
As you can see, the gold is a bit more muted, not a bright gold or what I would necessarily consider to be patent.  I don't know what gold patent leather looks like but I don't think this is it. However, they are really pretty and I'm a sucker for some bows on shoes. And cap toes. I could wear them with jeans and I have already worn them several times to work with my Banana Republic Camden fit jacquard ankle pant – they coordinate perfectly.
But the bows, oh the bows. Let's talk about the bows. I didn't inspect them too closely when I received them, but I had a bad feeling that the bows were not tightly affixed to these shoes. One would think for a pair of shoes that retails for what these do, that a little more than a dab of glue would be used to put the bows on, but indeed there was not. I think on my second wearing of these shoes, I managed to catch the bow of one shoe with the heel of my other shoe and off came the bow. Awesome. However, I had already fallen in love with these and couldn't quite bring myself to return them. So a little bit of gorilla glue and they were good as new. I checked the other shoe to see that the other bow would likely suffer the same fate if I didn't seal it up so I dabbed some glue on those too. Gotta love it. Any more crafting than that required on my part and they would have been returned. Aside from that, they're lovely shoes and I look forward to wearing them throughout the holiday season and as far in to the spring season as I can get away with!
Here's a few ways I've styled these shoes (both with the Banana Republic pants). As you can see, I'm a bit better at staying current on Instagram these days: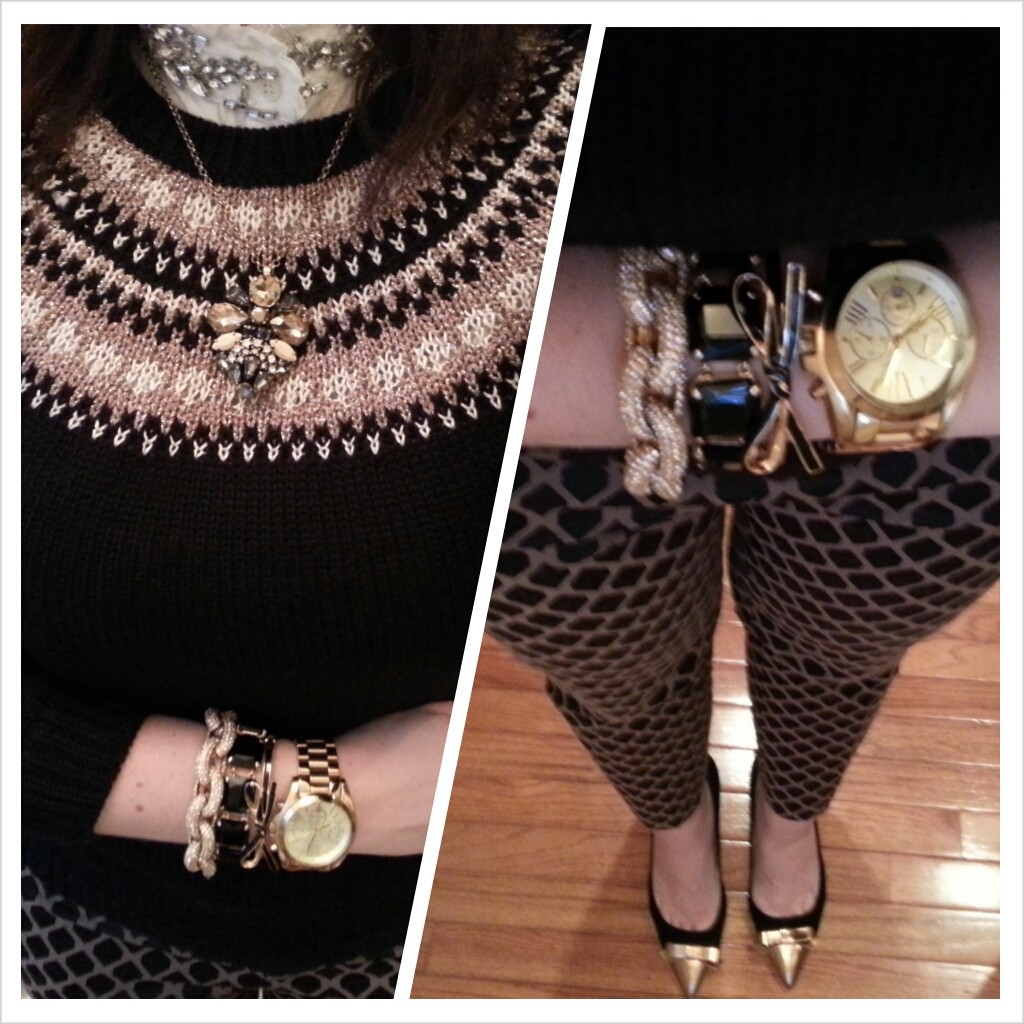 Pants & Sweater: Banana Republic, Blouse: J.Crew, Bracelets: J.Crew, J.Crew Factory & Groopdealz (bow bracelet)
Necklace: Emerald Bling, Watch:  Michael Kors
 Sweater: J.Crew (last year), Blazer: J.Crew Schoolboy
So what do you think of the shoes (and the outfits?) Would you have kept the shoes or tried to fix them like I did? Would love to hear what you think and thanks for visiting!