In the midst of our latest winter storm warning, I celebrated a birthday this past weekend. Here's my birthday looks as well as a peek at my birthday gift 🙂 It was a cold and windy weekend with a fair amount of snow. But I still had a great weekend – met my  mother-in-law for lunch during the day on Saturday and then Saturday evening went out with friends. Despite the snowy weather, it was a wonderful weekend, and I always enjoy celebrating my birthday! First up is my lunch look, however weather dictated that the shoes were a no-go, but like I said on my Instagram page…let's just pretend!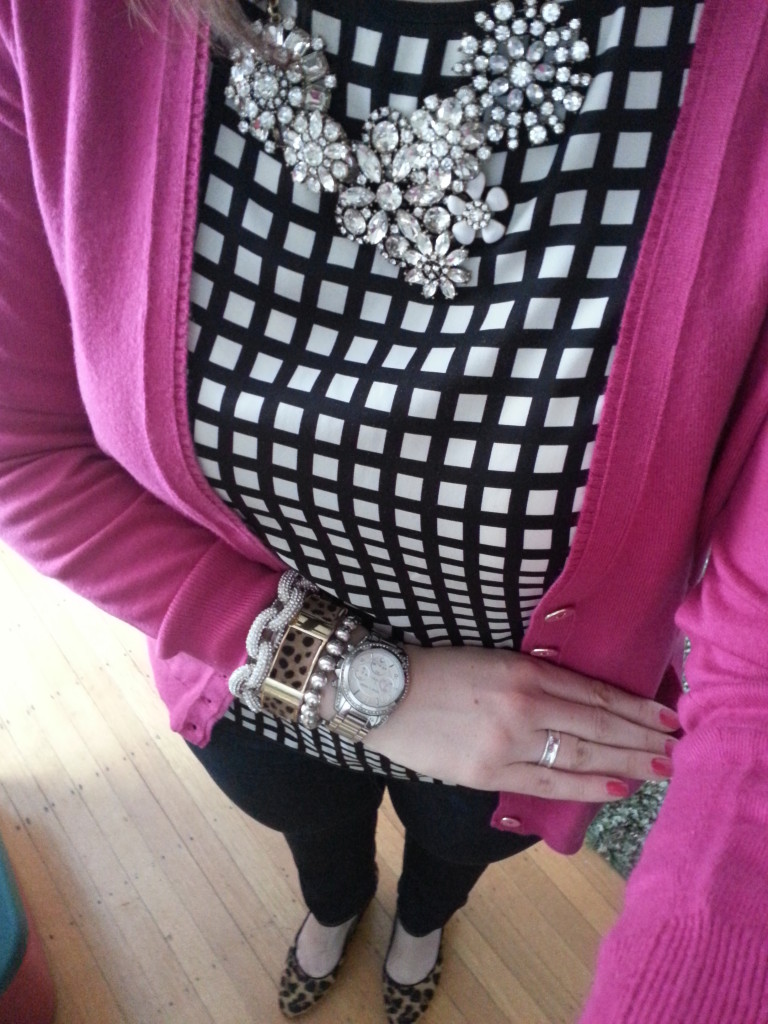 Jeans/Blouse/Shoes: J.Crew, Sweater: Banana Republic, Bag: Kate Spade (outlet)
This is one of those outfits that I think describes me perfectly – basics with pops of color. This shade of pink and purple are some of my favorites and mixing them with a few classic patterns – windowpane and leopard, was a perfect combination. I will probably modify this outfit to wear to work I loved it so much! Here's a closeup of these gorgeous shoes, the J.Crew Martina Wedge in calf hair. I took my usual 1/2 size up in these shoes. I'm sad they had to stay  home since it was so snowy out, but I'll be wearing these in the office until the weather improves outdoors. I was also excited to recently find this shade of pink at Banana Republic  – they call it wild orchid and it is a perfect magenta hot pink.
And here's what I really looked like bundled up to go outside! (yes, I put a coat on). Scarf: Free People / Gloves: J.Crew (old). Bracelets: J.Crew, Kate Spade, Tiffany's, Groopdealz
We have a local store where I live that lets you pick out one item for 40% off on your birthday…no brand restrictions. So…this is usually how I pick out  my birthday present! I had a few things in mind this year, I looked at the watches as well as shoes, but finally settled on the Tory Burch Robinson Double Zip Tote which I've had  my eye on. After seeing it in real life, the decision was a no-brainer. It will be a great spring/summer neutral!
And finally, here's my outfit (again, had to swap the flats for boots) to go out to dinner with DH and then meet our friends out for drinks. I am lucky to have great family and friends and wonderful people to spend birthdays with! It was a great weekend. I could use one more day to the weekend!!
Blouse & Jeans: J.Crew / Necklace: Ameera Noor (J.Crew inspired) / Blazer: Cynthia Rowley via Marshall's / Shoes: Old Navy / Bag: Banana Republic
I had grand plans to pick out a brand new outfit but that just didn't happen – wanted to wear the blouse so swapped out the necklace and added my faux-leather sleeve blazer (via Marshall's) and a fun bag. So what do you think of my birthday weekend outfits? Would love to hear what you think and thanks for visiting!