I'll be honest, I really didn't pay much attention to the fact that today is the first day of spring. I signed on to Instagram and saw all of the bright springy outfits as I watched the snow fall outside. So, I'm going to share with you my outfit from yesterday which was a much more spring like outfit than what I decided to wear today. As much as I love my bright colors I have a feeling I'm going to be stocking up on pastels this seasons. My first pastel purchase for the spring was the J.Crew Lightweight Merino Tunic Sweater in Heather Lavender. I'm liking the longer sweater/top trend this season so I thought I would try this one out as I had seen a few positive reviews online. I took a medium which is my almost always sweater size in J.Crew, it has a loose fit, and is a bit swingy with two side slits. You definitely need a shirt underneath as the lighter color is fairly sheer and the side slits definitely show my sides. Nobody needs to see that. I just layered a lightweight tank underneath. I liked this sweater because it's a slimmer cut of the swing style of sweater and I don't feel huge in it like I have in some of the other oversized sweaters that are out right now. Don't need to be adding any pounds!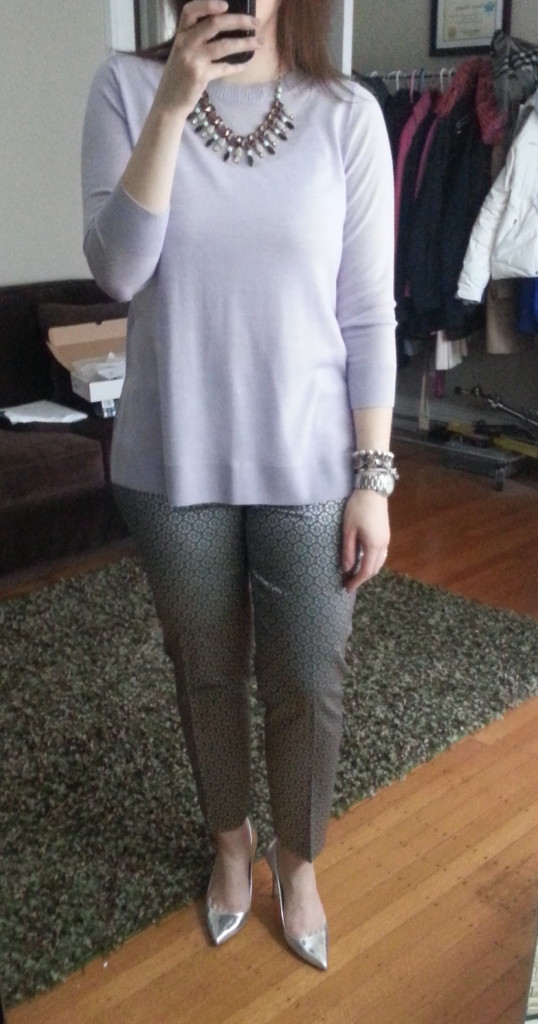 Sweater: J.Crew Lightweight Merino Tunic Sweater in Heather Lavender / Pants: Banana Republic (Winter 2013) / Necklace: J.Crew Geo Fan Necklace / Shoes: J.Crew Everly Mirror Metallic Pumps
 This necklace totally escaped me when it was out this last winter, but I received it as a birthday gift and I am finding it to be so versatile. Here's a closeup:
So, there you have it, a quick sneak peek at spring! My spring purchases are rolling in…I'm ready to pack away the sweaters and get on with it! So what do you think of the outfit? Would love to hear what you think and thanks for visiting!