I purchased the J.Crew Quorra Ballet Flats in dark cedar during one of J.Crew's recent 40% off promotions. They were on promo sale + the 40% and I've been eyeing these flats since last season. Admittedly, my first choice was the gold ones but of course these weren't on sale but I don't own any camel colored flats and I thought these might be a nice sandal alternative flat in the summer time that are work friendly as well. Here's the website stock photo:
And here they are in real life…out of the box, they're a very attractive slim ballet flat. I was a bit concerned that my not so slim feet would look bad in them. We'll get to that in a minute. I tried my usual 9 1/2 in these and while a little snug at first, I wouldn't go any larger. That's pretty much my universal J.Crew size, which is a 1/2 size larger than what I wear in most other brands.
Back of the shoes…this is my favorite part, I love the ties.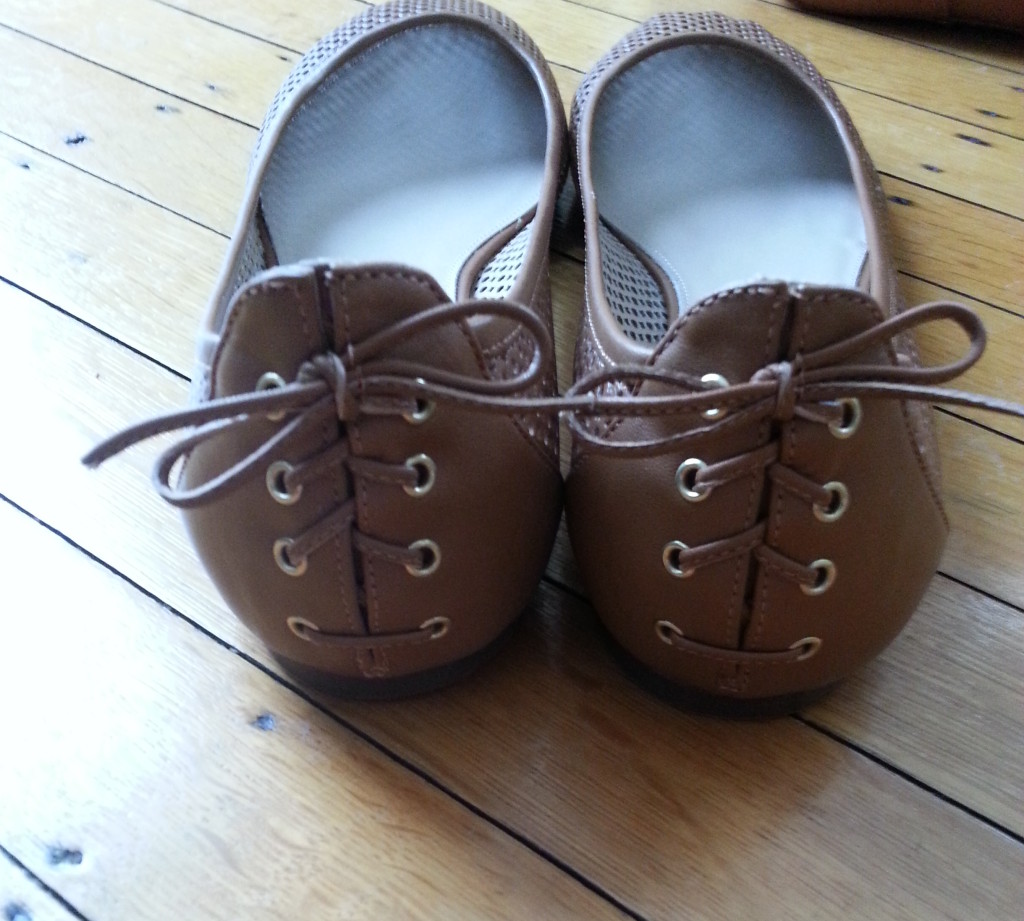 As you can see, they're very flat, not much of a heel. The website description states a "cushioned insole" but I couldn't feel or see much of a cushion.
Oh, AND they match my Tory Burch Robinson Tote which has not yet seen the outdoors yet due to our lovely winter weather. If we were judging on looks alone, these would be keepers.
So now we come to how they look on. I will say…I think the photos are a bit deceiving in the sunlight but judge for yourselves.
I'll be honest, I'm not sure what I was expecting but I think I expected my toes to be not quite so transparent through the shoes. BUT THEY HAVE HOLES IN THEM. So yeah, I guess it stands to reason that you can see through them. Maybe if I didn't have dark polish on my toes I wouldn't care as much. And I was standing in direct light next to the window.
They look better from the side and I am trying to take these photos solo so it's a little tough getting the right angle. But as you can see, the shoe is molding to my toes. I'm not sure if a 1/2 size up would fix this or not. I think I'd be slipping out of them. While there isn't a lot of padding in them they do seem comfortable on, I'm not sure about any long distances but they seem ok for some casual walking around.
And then…when you take them off, you can still see where your toes were!
Not sure why, but look at the shoe on the left. It's like my toes are still IN THERE. This is bothering me.I think I just need to get over it because that's how the shoes are.  I'm not 100% on these but it's probably the rapid snow that's accumulating outdoors and the fact that they'll probably sit in their box for another month before I can pull them out. I think they'll be cute with capris or jeans as well as summer dresses. And finally, here's one more closeup of the pattern on the shoes:
Full price, I'm not sure they're worth it. Promo, plus 40% off? I'm a little more inclined to keep them. So what do you think? Love or not so much? Would love to hear what you think and thanks for visiting!