Hi there! Just popping in to share my weekend looks with you – I had a good mix of a relaxing and busy weekend, just the way I like it with multiple opportunities to put together some fun outfits….just the way I like it!! And now that I'm tallying up my outfits I realized it was an exclusively J.Crew weekend…surprise surprise!!
First up – Friday – work and aftewards a trip to the mall for a little bit of (J.Crew!) shopping and dinner and a movie (Divergent) with one of my girlfriends. This sweater is hands down my new favorite hot pink. I'm in love.
All J.Crew:  Sweater: Merino side-panel sweater in Neon Begonia / Minnie Pants in Diamond Print / Linen Nobody's Perfect Tee / Factory Emery Flats / Necklace (inspired) : Crystal Rosette Necklace via Groopdealz
Outfit #2 – Saturday morning manicure appointment
I'll be honest, I only wore this for a few hours – I can't wait to have another day to get a full day out of it!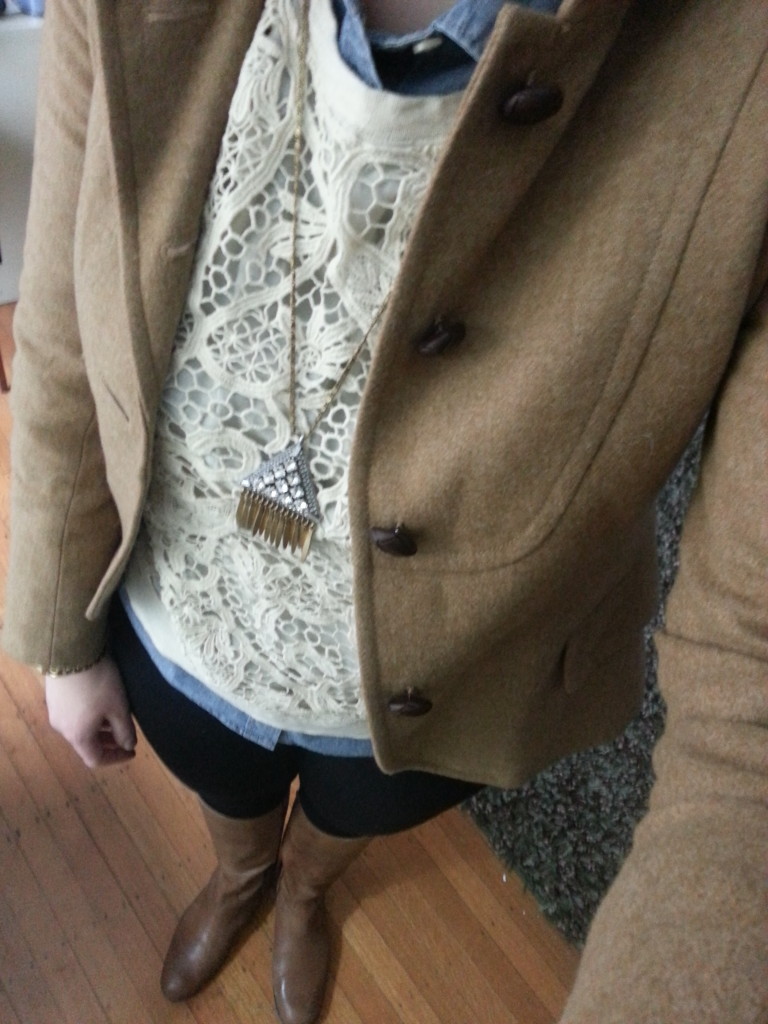 Jacket : J.Crew Factory Bella Jacket (old) / J.Crew Lace Sweatshirt / J.Crew Factory Chambray Shirt / J.Crew Pixie Pants / Corso Como Boots
Outfit #3 – Date night dinner!
Any excuse to wear my J.Crew leather front pixie pants….I don't think I've blogged about just how much I.LOVE.THESE.PANTS. I scored these pants on serious promo + additional markdown and while they were still a bit of a splurge I feel a total rockstar in them. I'm still trying to figure out how I can swing wearing them to work (I'm still not that adventurous). In the meantime I'll settle for wearing them out to dinner and as many places as possible.
Sweater: Merino Side-Panel V-Neck Sweater (same as the pink one above) / Blouse: Polka-dot blythe blouse / Blazer : Schoolboy Blazer in Black / Pants: Leather Front Pixie Pants /Shoes  Cap-toe Everly Pumps / Necklace: Icicle Pendant Necklace
And my final casual Sunday look…running a few quick errands. I'm not a big hat person, but I couldn't resist the J.Crew Embroidered Emblem Baseball Cap for a mere $8 on Friday.
T-Shirt : Factory Stripe Bateau Top in Neon Azalea / Hoodie: Cashmere Hoodie
So, there you have it, my looks from the weekend! Any favorites? Would love to hear what you think and thanks for visiting!!