Hi! The summer crazy is upon us and I have been enjoying some time away from work as well as my computer. I did stop by the store this week to return some items and check out a few of the new arrivals from the small rollout earlier this week. The first pre-fall rollout for the August style guide will be in a few weeks. I saw this rollout online and I admit that online nothing was a "must have" since I am pretty well set with summer items. However, after trying some items in person (as usual) I found a few things to add to my wardrobe.
First up, a dress that I don't see online yet but the embroidery on the dress caught my eye.
Shoes: J.Crew Lace-Up Suede Sandals
I'm not usually a fan of orange but I may make an exception for this dress. I would have trouble wearing this to work though, so it's use is somewhat limited. It looked cute with a denim jacket though and would be good with a Jackie cardigan as well. I'm thinking about this one. It's $178 and the style number is G7489 if you're trying to track it down at your local store. I sized down to a 4 in this and it was a perfect fit. The detailing on this dress is so pretty and I'd usually pick heels to wear with this tea length, but I liked the neutral colored flat sandals with it as well.
Next up, the Tie-front skirt in rainbow gingham.
Top: J.Crew Chambray Tie-Waist Top
This print didn't grab me online but I did like it better in person. I like the shape of this skirt and the wider waistband. This is a size 8 which was a good fit to a little bit large, but I didn't have a smaller size to try. My SA had it styled with a chambray shirt. It's a lightweight cotton and the print also comes in a dress as well as a button-front top and shoes. I also saw a customer in the store with the bandana in this print tied around her neck paired with the tie front chambray top.
Next up, the One-Shoulder top in stripes.
Shorts: J.Crew Denim Short in White
I have this top in white and love it. The cotton is a little stiffer which helps hold the shape of the body of the top. The ruffles needed a bit of steaming out of the package. I do not need the striped version but it sure is cute. This is a size small which is my normal top size these days. It is slightly loose around the arm area but not enough to go down another size. There is no zipper or anything in the top, you just pull on and off.
Next up, the Button-Back Striped Peplum Top.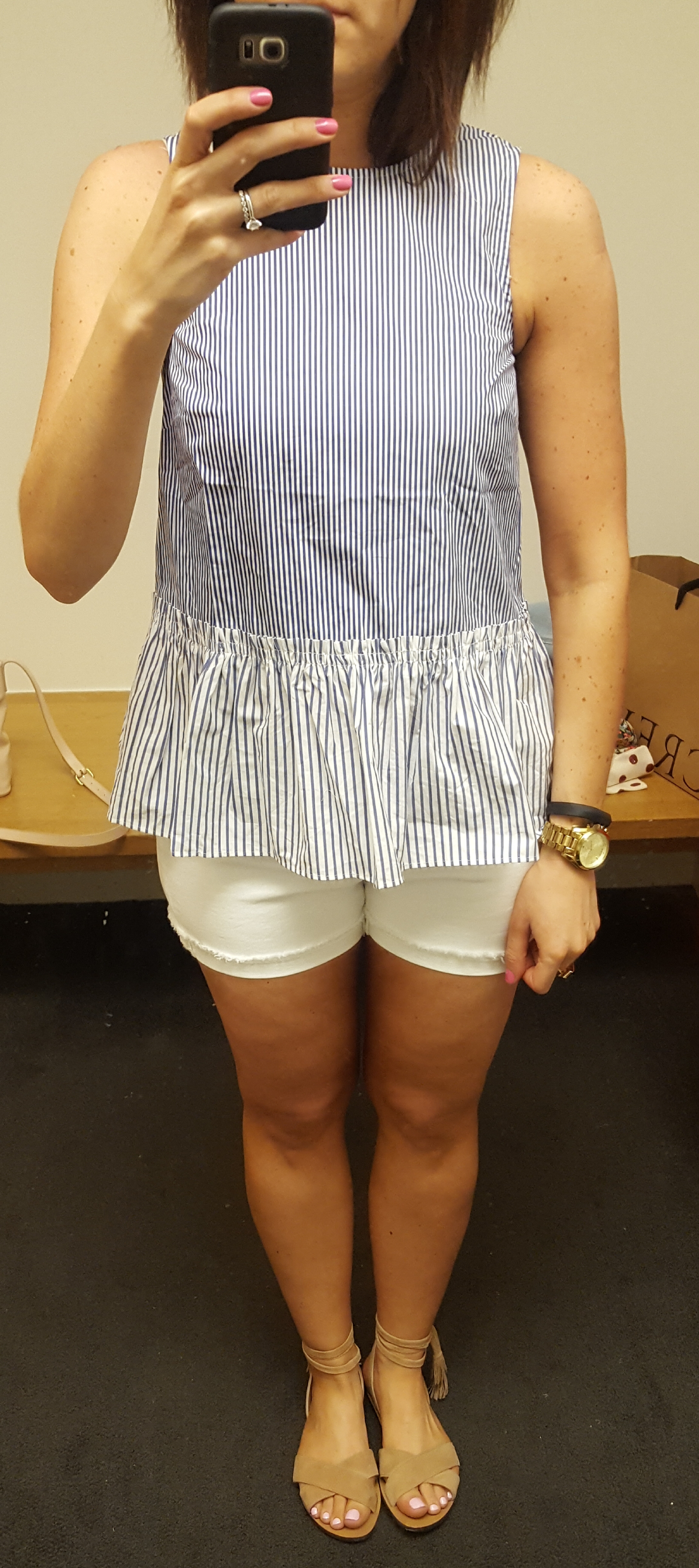 I liked this one a lot and like that it's a bit looser, especially with the button detail up the back. The peplum could use a steaming but it looked ok without it. This runs large, I'm wearing a XS and it's still a generous fit. I like that this is a good weekend or work top and it is at a decent price point ($59.50). The top also comes in petite and tall but I found it plenty long enough in the regular length.
Next up the Wrap-around tie skirt in shirting stripes with the Drapey ruffle cami.
I'm wearing a size 8 in the skirt and a 6 in a top which are my regular sizes in both top/bottoms. The skirt was too short for me and I found it a little too tight in the rear with the straight fit of the skirt, so it sort of bunched up not lying flat. The skirt does come in petite and tall and I would probably prefer the tall length in this. The stripes on this are a lighter chambray blue paired with a darker blue and the lining is a light blue. I really liked this top – it is polyester but doesn't feel like it. The top also comes in black, olive, coral, and cool shadow which is a dusty blue. It comes in petite but not tall. I liked the white color (I think it's technically ivory) and didn't find it to be sheer so with a strapless bra this would be perfect. The top came home with me.
Next up, the Tie-shoulder eyelet top.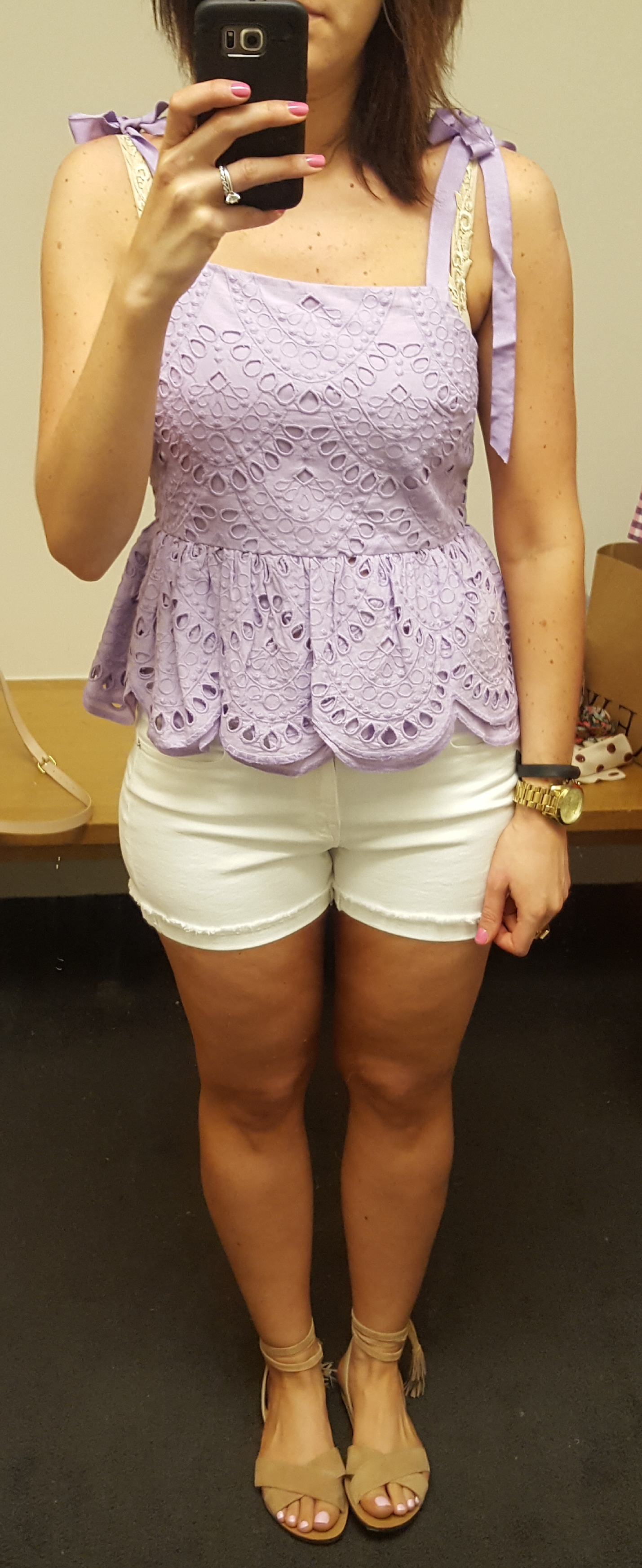 I sized down in this to a size 4, there wasn't a 6 in the store in this color. I like the light purple color but the top was too short for me. I didn't fuss much with the straps, they need to be tied correctly and ironed to look a little better. The eyelet print is very pretty and I did think it was a bit pricy for the top. The tag had this top marked as $98 in store but online it's listed as $88. The tall version of this would probably have suited me better. It also comes in ivory and black and if you're in to eyelet, I can see this being popular. The top buttons up the back and I found it a bit annoying to get in and out of it. It might have been the smaller size, but having to undo most of the buttons to get it on and off was a hassle. My regular size might have proved easier to put on. This was a pass for me.
Last up, the Jackie cardigan in sequin polka dot and Jackie shell in sequin polka dot.
I liked these a lot and I think they're a great transition in to fall item. While a bit busy, I sort of liked them paired with the Liberty floral shorts. I'm wearing a size small in both the cardigan and the shell. I liked that the items aren't covered in sequins and they're scattered throughout the garments. While I do like this, I think I may have trouble pairing it but I'd have to peruse my closet. Navy is immediately coming to mind. I don't wear much khaki or olive but those could be options as well.
So, there's a peek at the latest J.Crew new arrivals. Any favorites? Would love to hear what you think and thanks for stopping by!