Hello! Time for the first big full fall rollout at J.Crew! It's usually my favorite time of year but for some reason this post took me forever to put together. Probably because I didn't find that I loved everything I tried on. I didn't leave completely empty handed but I was able to be a little more discerning and with the rate of things hitting sale these days, and the summer weather still upon us, there's not much point at buying a lot out of the gate.
First up, in which I go against my goal of not buying too many fancy items that I will hardly wear. This is the Tiered Skirt in Polka Dot Embroidered Tulle which I am wearing with the Rue Saint-Honoré" graphic T-shirt.
I am wearing the 6 in the skirt, so the smaller of my two skirt sizes because it has a looser skirt and a small in the t-shirt. There was something about this skirt that spoke to me when I saw it online. Yes, it's a little dressy for the office. I definitely wavered on purchasing this but with an extra 15% off coupon with the in store promotion, I went for it. I'm hoping it will make it in to the holiday party rotation and maybe to work as well. Yes, this is me attempting to justify this purchase. Onward.
 Next up, the Velvet Pull-On Skirt.
Meh. That's how I felt about this. I would like to pick up a velvet item this year, and one that is seasonally appropriate as I bought the peplum cami last year and didn't wear it nearly enough. I tried a medium in this and it just fit – so it's true to size as I'm an 8 on bottom usually and a 6 in the waist. The waist on this was unflattering and this had a lot of potential to be a great cold weather toss on and go item but they missed the mark. This was boring and that's all I can really think to say about it.
Next up, the Ruffle Top in Star Print.
I'm wearing this in a size 6 so it's true to size. There are several items in this print and at first glance you can't immediately tell that the print is a star print. I thought this was ok but it's not a must have for me. I think styled right it could be even cuter. The white isn't terribly sheer. I think I prefer the black with white stars. Stars aren't a print I've ever really gotten in to, so I can see why this isn't a favorite for me. The silk is lighter and similar to the ruffle neck top as well.
Next up, the Ruffle-Neck Silk Top in Lips Print.
I purchased the solid version of this top and really like it. The sleeves are a smidge short on me and a tall may have been a better choice but as with other tops in this style, I'm always worried about ruining them while eating or something like that. The button closure on the neck is also really difficult to fasten – it has an elastic loop and for some reason I had the worst time with it. You can't pull it on and off without undoing it. I'm wearing a size 6 so it's true to size.
Next up, the Tippi Turtleneck Sweater with Ruffles.
Someone on Instagram noted that they had a love/hate relationship with this turtleneck and I feel the same way. If it gets cheap enough, I may pick it up. No, I do not need any more ruffles in my life. I am wearing a small in this and the grey was very lightweight and slightly sheer which was a turn off. Maybe the black would be less noticeable. I do sort of like the zippers at the sleeve and I would have enjoyed a plain turtleneck with the zipper detail. For now, I don't need it.
Merino V-Neck Sweater with Drawstring Sleeves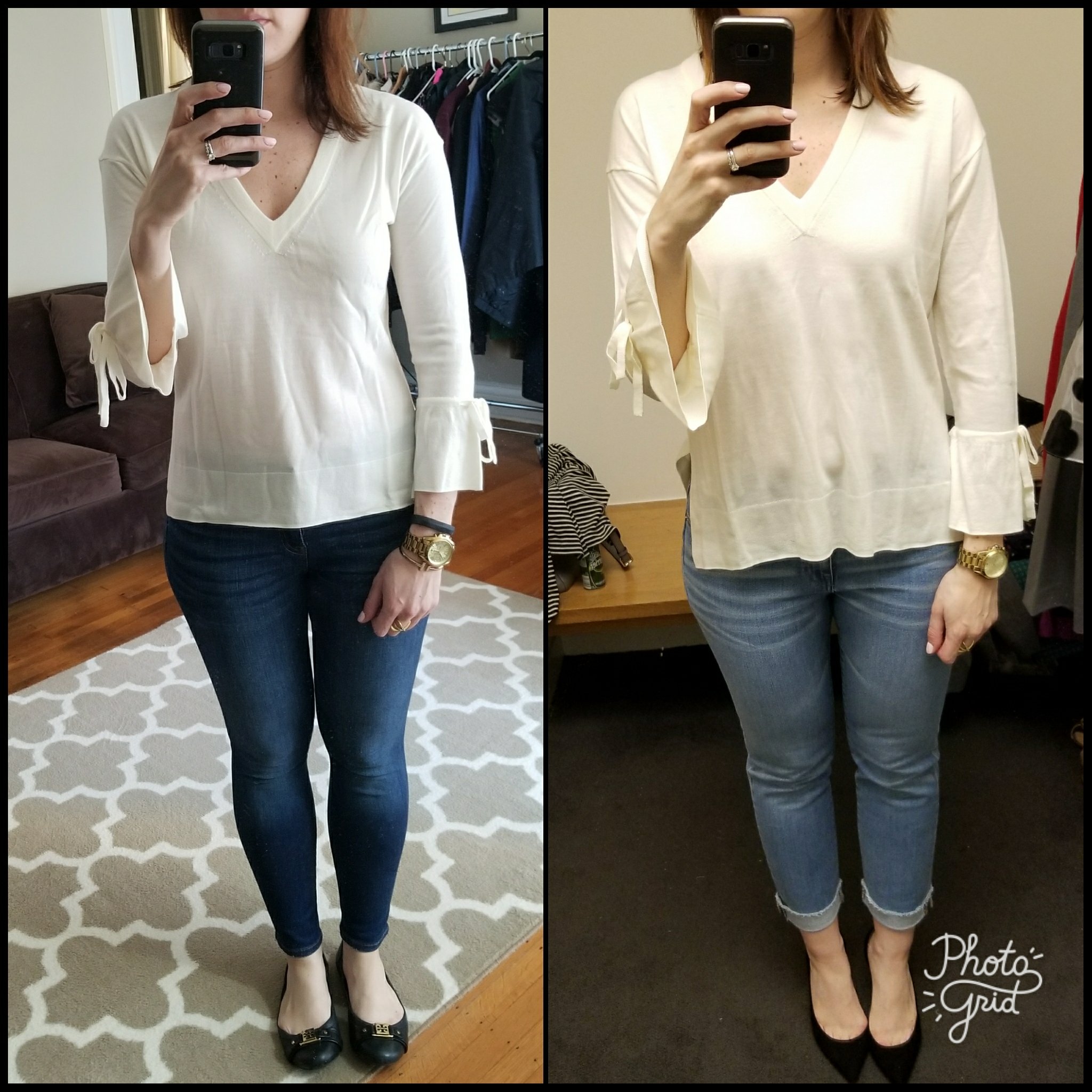 I was really sad this one didn't work out for me. I know the sleeves are trendy but I thought it would be good for the weekend or for work and I could not get the sizing right on this one. First I tried the small and the body was fine but the sleeves were too short and looked skimpy. The medium was huge through the body and it ruined the look for me. As you can see, the ivory color is sheer and you'd need a tank underneath it to wear it. I wouldn't have minded needing to layer but this had to be a pass for me. The merino wool also felt flat to me- not soft like the Tippi sweaters of years past.
Next up, the Faux Fur Leopard Vest.
I reallllly wanted to not like this. But I sort of love it. I didn't buy it (yet) because as I'm looking at all of the excursion vests I have (and don't fit me anymore), I'm realizing I only had a few on regular rotation and some went unworn. I loved the coat when I saw it on others online as well – the website photos were underwhelming but the coat surprised me as well. Again, I'm not sure how much I'd wear such a statement piece though. I'm wearing a small and it was a good fit. I'm wearing the vest with the Slim Boyfriend Jeans in Shelton Wash (sized down to a 28), the Tissue Turtleneck T-Shirt in Stripe (in a medium – this runs small and the neck is tight) and the Lucie Suede Pumps.
Next up is the Daphne Topcoat in Boiled Wool paired with the Edie Full Length Trouser.
I can take or leave boiled wool so this coat was just ok for me. I have an old boiled wool sweater coat from Banana Republic that I've had for years and love because it's the perfect in-between season coat. I tried a 4 in this but probably could have done a 6 in this if I wanted to wear any more layers – it was snug with just the lightweight turtleneck. You can't see much of the pants but trust me, you're not missing much. Both the Cameron and these pants were misses for me – they have a funny rise on me and make me look like I have a pooch in front. No, thanks.
Next up, the A-Line Dress with Velvet Tie.
I'm wearing this in a 4 so I'd say it runs a bit generous. It's a sweatshirt type material. One of the women at the store when I was there was wearing this with a tissue turtleneck layered underneath which was really cute. I personally didn't love the midi length on this and would have preferred it a little shorter right below my knee. But maybe with tights and boots I may feel differently. It would be cute layered with a button down and the velvet Parke blazer. I'd also probably try a different bra because I felt very busty in it. If I were going to go with this I might try it in the petite length to get the length I wanted. This comes in grey and ivory.
Last up, the Organza skirt in heart print.
I was not in the camp of people who liked this when it came out in the fashion week preview. And I am still not in the camp of liking it after seeing it in person. I'm wearing a size 6 in this skirt. I know some people are loving this, but it is not for me. I don't mind a heart print but this is to cutesy for me. The fabric is shiny which I didn't like and there is a lot of material at the waist which makes the hip area look larger than it needs to. It looked so out of place at J.Crew, especially in the women's section. Maybe in the kid's section.
That's the latest roundup…what are you loving? What are you passing on? Would love to hear what you think and thanks for stopping by!