Hello! Wow, it's been a while. Six months in fact. It's been a slow spring and summer in the J.Crew space and I admittedly have been heavily utilizing my Rent the Runway subscription for work clothes and wearing a lot of last summer's J.Crew purchases on the weekends. But when this latest J.Crew rollout was released, I had to stop by and check things out. And try and get a quick blog post in before we hop across the Atlantic for vacation!
I tried on a lot of items so this will be a long post since I won't have time to split it in two. So here goes! Reviews may be on the short side due to volume but I'll do my best. First up, the Point Sur All Over Pointelle Crewneck Sweater in ivory.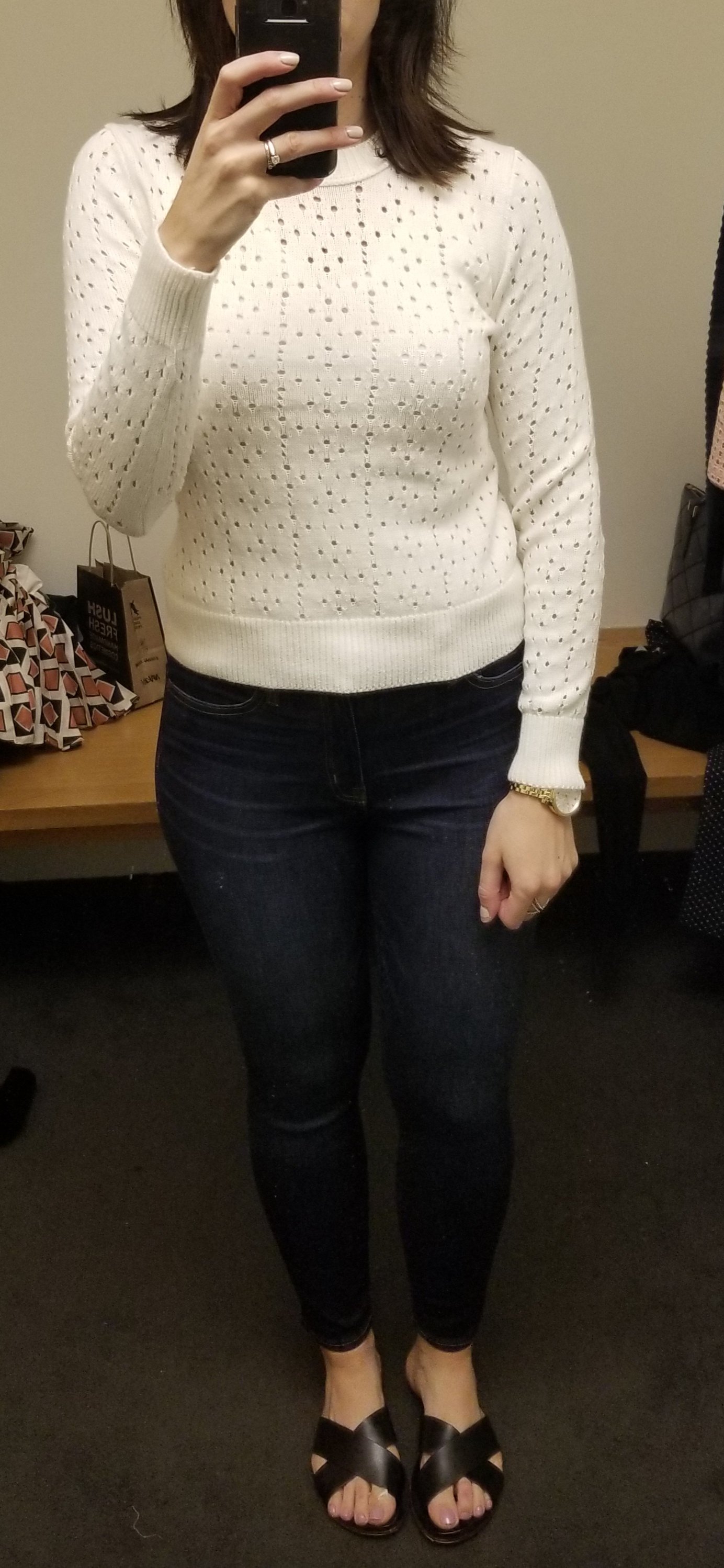 This also comes in pink, navy and loden and is 100% cotton. I really liked this and I am wearing a small which fit, but I may have tried a medium for a little more room. I'm wearing with a Tencel tank top underneath and the 9″ high rise toothpink in Solano wash (loved these and wearing a 29 – waist was a bit bigger than my other 29s but need the room for my legs). I'm not quite ready for fall but this outfit was a great staple combination (I'd pair with a leopard or camel belt.
Next up, the No. 2 Pencil Skirt in two-way stretch leopard print.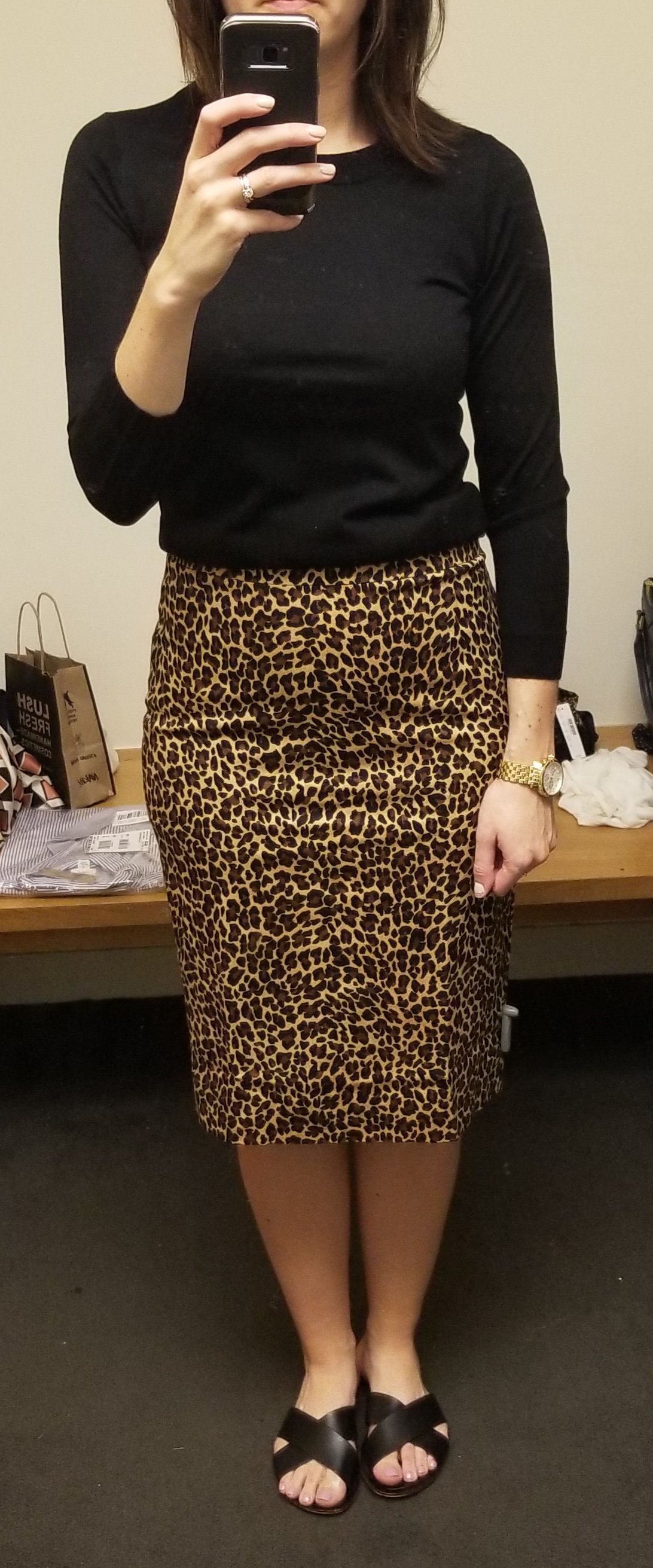 I'm wearing a size 8 which is my pant/pencil skirt size and it was perfect. I love the slim silhouette of this skirt and the leopard print this season is spot on (see what I did there?) I really like the smaller print and the color scheme – it will be perfect with black or brown or camel. This is on the wishlist for sure. There is also a Tippi sweater in leopard print which I didn't try and a leopard collar black Tippi which was cute (I tried a small which worked well). I had a prior version of a leopard pencil skirt and I think this will be a great replacement.
While we're on the topic of leopard, next up is the Puff-Sleeve Top in Leopard Print Cotton Poplin.
I'm wearing a small in this and it was a good fit with some room to spare. This comes in a solid version as well which I think would be my choice for this top. The print is the same as the shirt collar on the Tippi sweater.
Next up is the Collection tie-waist pant.
These were a return from online and I loooved them. The color isn't usually a go to for me and they'd likely be limited wear for work but I've got my eye on them. They come in a clay color and black as well. I may be more inclined to be boring and go with black. I wore an 8 and they were a perfect fit. I'm still thinking about them a day later. These also come in tall and petite.
Next up is the Golden Floral Wrap Dress in 365 Crepe
I have the solid black version of this dress and J.Crew has now released it in a few prints. This is a pretty color scheme for fall and there's a pink and navy print that's available as well. I'm wearing a 6 which is my usual dress size. As is the case with the black one I own, the tie is a little funny length wise. Overall, it's a pretty silhouette and it's a heavier poly crepe. I am not usually a yellow/gold fan but I think this is pretty and I'd consider it on sale. It's still not the old school J.Crew prints we know and love though…
Next up, the Point Sur Eyelet Top
Personally, I liked this a lot better on the website/hanger than on me. I tried a 4 which is the smaller of my two top sizes which worked, although it was a bit of a struggle to get in to it. There is a cami underneath and while at first I thought it wasn't going to fit/work; once I got it on the fit was ok. I didn't play around with the ties too much on the side but I'd like to try and figure out how to cinch in the middle because otherwise I think it hangs without a lot of shape. I think people will like this though and it's cotton as well as made in the US, so points there for sure.
Next up, the Juliette Collarless Sweater Blazer
This also comes in navy, burgundy, pink, khaki, and navy, and black. I'm wearing a small and as you can see, it runs big. I have the open sweater blazer from last season as well as the merino blazer so I'm in good shape in the sweater blazer camp but this is a nice new longer shape in the same merino as the other blazers from past seasons.
Next up, the Velvet Mockneck Tank
I'm wearing a small in this and it also comes in black. I know a lot of JCAs were scratching their heads…velvet in fall, what? Apparently, J.Crew isn't the only ones doing this and one of the stylists at my store was convinced that this would work for fall styled the right way. The price point is reasonable and the tag said "J.Crew / Jeans" so I interpreted that as more of a casual line? Back when I worked at J.Crew (almost 20 years ago…yipes) the color of the tag designated what department it belonged to and I noticed several different types of tags while going through my try ons the other night. This was a tad tight in a size small and I barely got it over my big head but I'm not sure I'd need a medium. The color was a bit prettier in person. I will probably pass on this as I tend to think I will wear velvet and I end up wearing it for the two week period of the year in December in which I think it's appropriate.
Next up, not exactly a new item but the J.Crew x Abigail Borg shirtdress
My store had a few of these left so I decided to try it even though it wasn't something I thought I loved out of the gate. It had more appeal once it was sold out and everyone was raving about it online. I'm wearing a 4 which is a size smaller than my usual size and it's tight in the rib cage. Mayyybe if I had a lighter bra on but the buttons were strained to button. I did really like it once I had it on and the print is very pretty. I passed on trying the pants but there were a full run of those as well as the tops.
Next, the Ruffle-pocket blazer in glen plaid
Oof. This was tragic. They totally missed the mark here. I love glen plaid and I was excited to get the glen plaid Dover blazer earlier this summer for a steal but this was…out of a bad 80's workwear closet. I'm wearing a 4 and it was still a little big on me. It still felt frumpy and like there was something off from a tailoring perspective. The price point is pretty high too. This was a hard pass for me.
Next up, the Collection silk accordion pleated skirt in Ratti tile print
I admired this online (but not the price tag!) and my store had a return so I tried it on. The colors are a bit more muted than I usually like but with heels and a sweater or button down, it would make a striking outfit. It's not something I'd remotely wear enough to justify the price.  I'm wearing a 6 which is the smaller of my two skirt sizes but worked because of the a-line skirt shape. I'm wearing it with a black Tippi sweater.
Next up, the Thomas Mason® for J.Crew contrast stripe top
This was another lucky return at my store in a size 6. I love this so much. I'm a sucker for shirting stripes and the puff sleeves and tie neck – too cute. This came home with me. I wore it the next day with red flats, red lipstick and black wide leg pants. I'll plan to wear it with jean or under a suit and the tie is removable so…instant covered placket shirt.
Last up, the Ribbed Long Cardigan Sweater
This was also not part of the most recent rollout but it was new to me so I tried it out. I'm wearing a small which was the right size. It's also 100% cotton so bonus for that. I really liked this but would have preferred it in a different color. I also have a problem with buying long cardigans that I barely wear so…I'm probably holding tight on this for now.
Ok, so there we go. Some quick reviews on the latest J.Crew rollout. How are you feeling about the rollout? Is J.Crew getting their groove again or not so much? Would love to hear what you think and thanks for stopping by!