Hello! As we approach the end of the year and head in to winter, I am long overdue for a try-on post! There hasn't been enough in store the last few months to draw me in but as we approach holiday time, I have been finding more to love in the recent collections. Fall and winter are usually J.Crew's best seasons and while it's been a long time since I've wanted every single item that's been released, I'm still able to find clothing to add to my closet. The items in this latest try-on session are from a few recent rollouts and we can look forward to the rest of the holiday items being released the week of Thanksgiving. So let's get to it!
First up, the Tie-Neck Button-Up Shirt in Leopard Print and Pleated Leopard Midi Skirt.

I'm still kicking myself for purchasing other items and not this combination. In all fairness, I did purchase the leopard pencil skirt and I am trying (although not always succeeding) at being more discerning about my purchases. I'm still utilizing Rent the Runway so I am really trying to purchase items that will be repeat wears and that was my line of reasoning yet I'm still thinking about this! Both items are polyester which isn't necessarily a deal breaker for me but I still think I can wait for a better deal. There. Moving on. I'm wearing an 8 in the skirt and a small in the blouse (trending more in size 6 territory in tops these days) and have been more on the 8 size of things in skirts. This blouse would get a ton of weekend wear for me and the skirt is beautiful on it's own too.
Next up, the Silk pleated popover in floral print and the 9″ High Rise Toothpick Jean in Charcoal Wash.
I purchased the skirt in the yellow version of this print when it was first released and I wasn't totally in love when I got it. If the tags don't come off in the first two weeks of owning it, chances are it's going to sit in my closet and not get worn. I didn't pay much attention to this blouse online, it just looked ok shape wise on the hanger but I really love the print. And a blouse that I can wear to work or on the weekends is going to get a lot more mileage for me than a printed skirt. And these jeans…totally in love. I'd tried them earlier this year and I think the latest run of them is running a little small (or I'm still working off those pounds from Paris) because the 30 was much better in these than my usual 29. The reviews online seem to agree with me. This outfit is a winner and both items made their way home with me.
Next up, the Sleeveless Velvet Jumpsuit.
I almost didn't try this on but I am glad I did. I always swoon over velvet pieces every holiday but don't wear them enough. This is a size 6 which just fit me and I'd be inclined to try the tall to get a little extra length on the pants. it has a cut out in the back similar to the crepe version that came out earlier this year. This piece is limited for me, I wouldn't wear it to work but it would be fun for a holiday party with a statement necklace and sparkly or plaid shoes. I'd consider this at the right price. You could play around with layering too and do a tissue turtleneck underneath or even a button down.
Next up, some jackets and blazers. First up, the Going-Out Blazer in Tweed.
Trying this jacket on was a bit of an afterthought as I was gathering items in the store and it ended up being my favorite jacket. of my try-on session. I have the solid stretch wool version of this jacket and have already worn it several times, mostly to work but it would be ideal for a night out as it's name implies. To call this jacket tweed is a bit of a stretch, it's incredibly lightweight but is so flattering on. I'm wearing a size 6 which is a perfect fit and my usual dress /blouse size and the size I have in the solid one. The color on this is billed as "darkest navy" and I will agree it is VERY dark navy. The lining is more of a normal navy and when I got it home, I was back and forth about what to pair it with (I styled it with a black Tippi sweater, navy suiting pants and black pumps – undocumented on Instagram which means the outfit will likely get a repeat this week when I need to wear a more professional looking outfit at work). Grey would also work with this and it would also be fun with a t-shirt and jeans.
Now for the Parke Blazer in Houndstooth Wool.
I am wearing a size 6 which is the same size I wear in the solid color Parke blazers. My black Parke blazer is another go to for me for a slightly longer shape. I'm missing a houndstooth blazer in my blazer rotation and while I did like this, the fit was not quite perfect. It is a little big in the sleeves/body but I think sizing down would have made the shoulders too small. The material was a little scratchy and I wasn't totally wowed by it. I do like the grey/black houndstooth mix and it has a fun red felt underside on the collar. It's not a must have for me right now.
Next up, the Glen Plaid Lady Jacket with Braided Trim.
I am wearing a size 6 in this as well. I am always a sucker for glen plaid and while I do own a few jackets in this silhouette it's not always my go to shape. I would consider this on sale. There is not a coordinating skirt which I found a bit odd but it will of course work with black or grey bottoms or jeans.
Next up, the 365 Crepe Drop-Sleeve Sweater.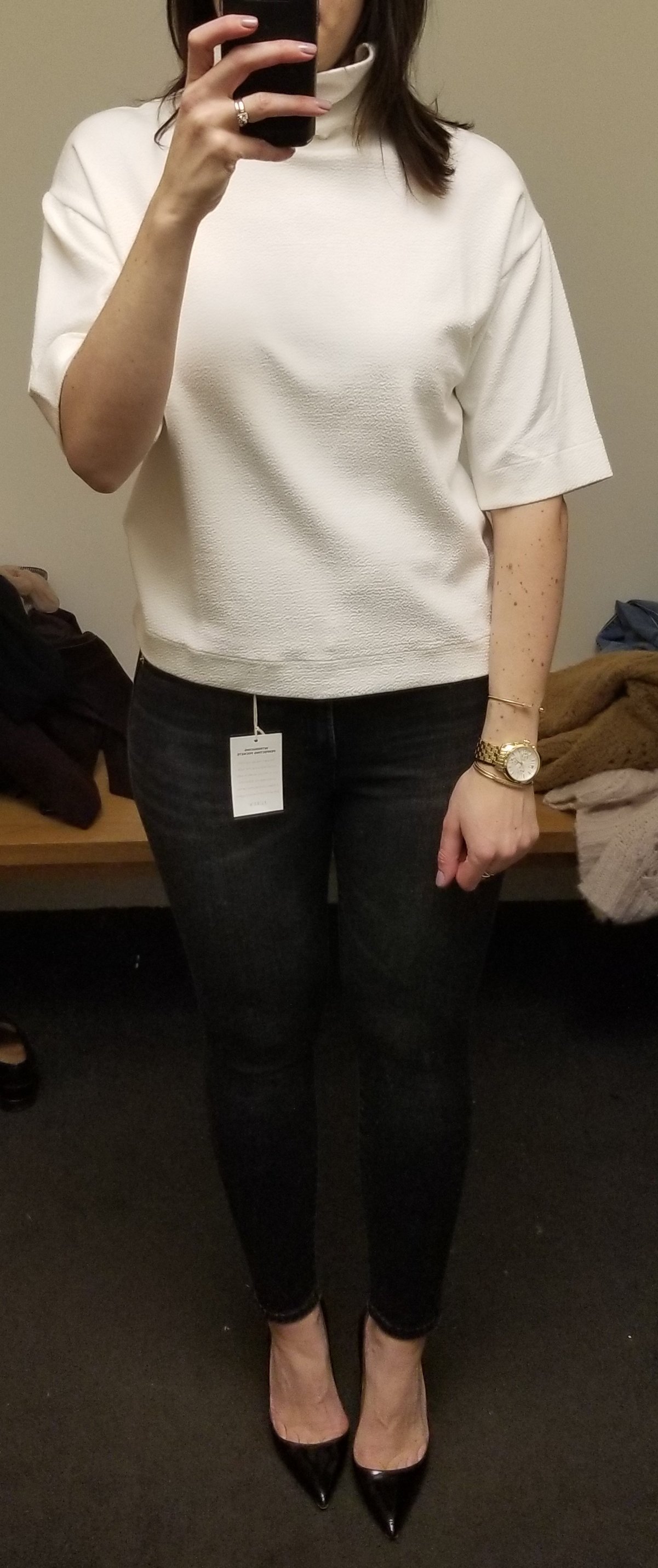 We should put sweater in quotes on this one as it's actually not a sweater, but a crepe top. This is one of those items that looks meh on the hanger and is way more flattering once you put it on. I admittedly can't decide if I will actually wear it in the winter due to the length of the sleeves or if this will be one of those fall/spring tops. As others noted, it has a very COS looking style to it with less structure but I really liked it with the charcoal wash jeans and pumps. I hesitate about wearing in the colder weather though because it will only work under certain jackets to go out and I think I'd want to make sure I was tucked in at a warm party before I'm going to wear anything other than long sleeves. That's just me. It does run a bit oversized but not enough for me to feel like I should have sized down, I'm wearing a size Small.
Next up, the Point Sur Pointelle Knit Crewneck Sweater in Colorblock and the Point Sur Pointelle Knit Crewneck Sweater.
These were in store returns – both size small. The colorblock sweater comes in a grey/red/green/pink combination and the solid also comes in ivory, light pink and a bright brick red. While the size in the body was ok, the waistband on these was a bit tight. The knit is pretty big so you'd need to be conscious of what top you're wearing underneath. They were soft, not scratchy but overall the colors were not quite for me. I think I would have liked the solid one more in ivory or pink. These are an acrylic/mohair/wool blend and I'm also trying to steer away from acrylic heavy blends since they look pretty worn after a season. Hopefully that's not the case with this sweater.
Next up, the Point Sur Alpaca Crewneck Sweater in Stripe.
The colors in this caught my eye and it was recently marked down on sale. I'm wearing a small which was just a tad snug so I may try a size up for a looser fit. It is a nylon/acrylic/wool blend and one of those sweaters I can only describe as feeling spongy, but it's soft. I'm not sure how it would hold up. I'm wearing with the Vintage Straight Eco Jean in Medium Wash in a size 29. I'd prefer a tall in these as they feel a bit too short for winter. II did recently purchase the Point Sur Hightower Straight Jean in Pale Ice which are on sale and have a slight bit of distressing in the higher leg but no holes in the knees and an unfinished hem. I wanted a lighter colored pair for winter with no holes to wear with ankle boots and the Point Sur are perfect. I bought a 29 in those and they are a tad big so you cold go down a size if you're in between sizes but I like the fit as is.
Next up, the Crewneck Sweater in Vintage Fair Isle
This also comes in a red with navy/ivory print and ivory with red/navy and gold. There is also a beautiful cashmere version of this sweater that was not in store and comes in ivory/grey and navy/pink/green. This version is a 60/40 merino/nylon blend which I was pretty blah about. It wasn't terribly soft and honestly reminds me of the Old Navy version of this sweater from a few years ago that I paid $20 for and have worn enough times to justify it's cost. I do like the longer length on this and the small was a perfect fit. I wouldn't go much larger than this.
Last up, the Fancy Pants T-Shirt and Easy Pant in Lace.
I have last year's lace pants in a size 6 in black and while they do still fit they are just a tad shorter than I'd like. I'm wearing a size 8 here and if I did it all over again (which I might) I'd get the tall. I do love the red but the seasonal wear will be limited for sure. I also need this shirt at some point in my life. I'm wearing a small which was big on me, I didn't try an XS for comparison but if you like your tees a bit fitted I'd size down. Just when I say I don't need another graphic tee…
So, there you are, a whole lot of J.Crew try-ons from the last few rollouts. Any favorites? Would love to hear what you think and thanks for visiting!