I ran out to the J.Crew Factory store last week on the last day of the Gilt City 40% coupon. I always have bad luck taking pics in their dressing room but as I was perusing pics on my phone the other day, I figured I would post a few pics of my dressing room adventures.  Here's a few highlights (and a lowlight). Enjoy!
Factory Charley Sweater in Color Block Stripe
For some reason I talked myself out of this at the store, and now seeing it in the picture, I wish I had gotten it. It's not quite in my usual color scheme, but I like the dark stripe across the bust not making me look quite so busty. I'm wearing the straight and narrow jeans in cherish wash, which did come home with me (I take my matchstick size). I took my usual Tippi size Medium in the sweater, and I am pleased to see the Factory version is 100% merino.
Sorry for the fuzzy pic. I love this sweatshirt. This is a size Large, and I have enough room to layer and it still looks relaxed. I honestly don't own many sweatshirts that aren't zip up hoodies, I guess you could say I don't do super casual so well. Ha. But a sweatshirt with bling that isn't crazy J.Crew retail priced? Sure. Yeah, I know, it's probably not practical if I can't machine wash it, but I may attempt delicate inside out in one of those meshy bags. We'll see. I love it though and look forward to getting a lot of weekend wear out of it this fall/winter.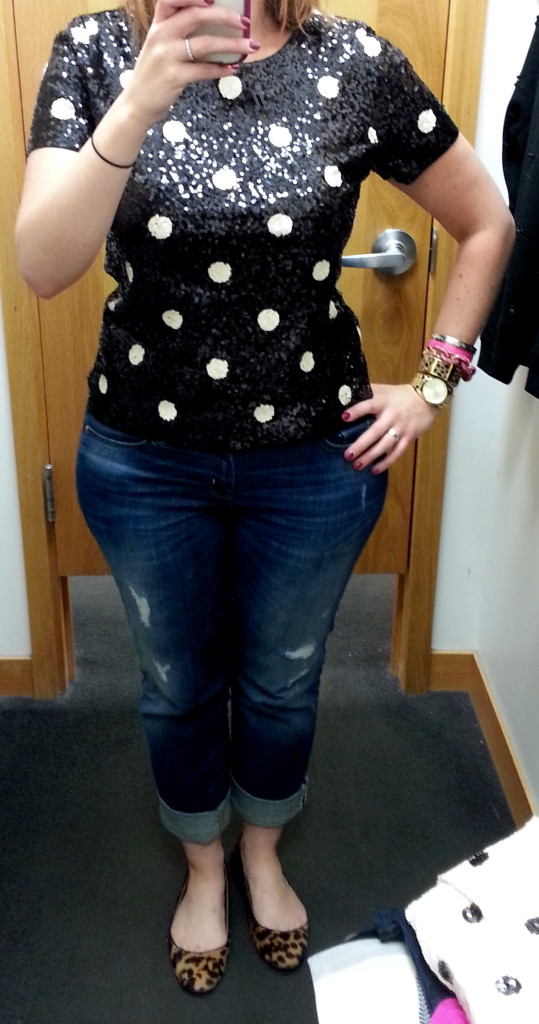 This (and my 40% off coupon) was the real reason I went to the store. I sized up to a L in this, there's not much give to it but I LOVE IT. I'm so excited to wear it this holiday season and even for non-holiday events. I talked myself out of the ivory one at the store…and I've already ordered it so now I will have both colors.
Factory Warmspun Herringbone Jewel-Collar Sweater
Frumpville. Not a love from me, it was cozy and not itchy, I believe this is a viscose blend. Not flattering on me at all, and I really don't think I can pull off the Peter Pan collar. I couldn't when I was in second grade either. I tried a medium in this, a larger size wouldn't have saved this. Pass.
So, there you have it, just a few of my recent try-ons from Factory. I'm offf to ogle the new arrivals at retail! How about you? Any wins at J.Crew Factory lately? Would love to hear what you think and thanks for visiting!