Just a quick post to say hello and wish everyone a happy Halloween.! DH and I celebrated Halloween (and our 6th wedding anniversary!) this past Sunday with my inlaws and six nieces and nephews. We went to find pumpkins, took a hayride through the woods and just enjoyed a nice fall afternoon together. I have to admit, I can't take complete credit for this outfit – I was inspired on Instagram when I saw Meghan from Everyday Fashion and Finance pair the Factory pom pom dot Tippi with the J.Crew beaded rose necklace and houndstooth pants. I modified it slightly – but the idea is still the same. I wore my J.Crew elbow-patch Houndstooth schoolboy blazer from last year, layered the Factory polka-dot chambray shirt under the Tippi and finished with black J.Crew Matchstick jeans and Corso Como boots (via Gilt Groupe).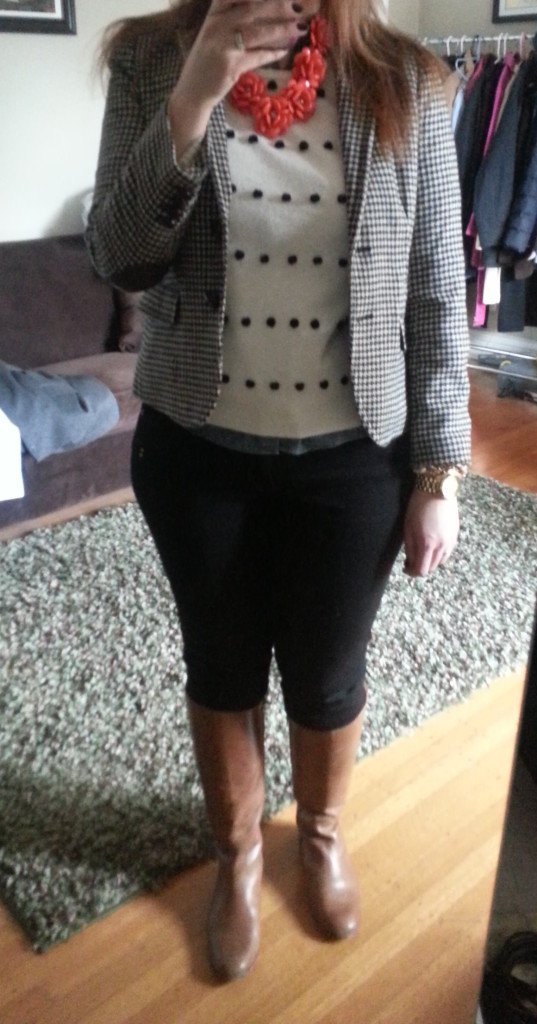 This outfit is how I like to do fall – a few layers under a sweater and I also added a black puffer vest. I have some pumpkin patch pictures but not sure DH wants his pic out on the interwebs so my outfit it is 🙂 Here's a closeup of the sweater and necklace:
My necklace is the Groopdealz version of the popular beaded rose necklace – I was excited to find inspiration to pull this in to Fall. This is also only the second time I've worn this blazer and I think I definitely need to be working it in to more outfits this fall/winter. And here's a little peek at our weekend fall fun – the pumpkins were dwindling for sure! This is about the extent of our Halloween fun this year – the kiddos had fun carving pumpkins and we had fun watching them enjoy themselves so much! Halloween itself is quiet – we live in an upper apartment and no kiddos of our own so I cooked a nice dinner and we tucked in while the nasty weather brewed outdoors.
How about you? Did you have a fun Halloween inspired outfit? Are you all over black and orange for Halloween or do you put a different spin on it? Would love to hear what you think and thanks for visiting!