Ok, two posts in two days! Let's not get too excited…but I wore a few dressy outfits this week and today was feeling particularly festive so I wanted to share. After a few tries on size, I couldn't wait to wear my J.Crew Contrast Floral Lace Skirt. I have been a sucker for lace lately and while I have a lace pencil skirt, my hips were excited to see a more A-line style lace skirt in the holiday rollout. And an A-line skirt that's actually an A-line and not squeezing my frame. In fact, I got to size down in this one as it does have an elastic waist and even at a size down I still have room.  Out of convenience, I tried the skirt on with the Tippi Sweater in garnet flame that arrived in a recent order and I loved the pairing.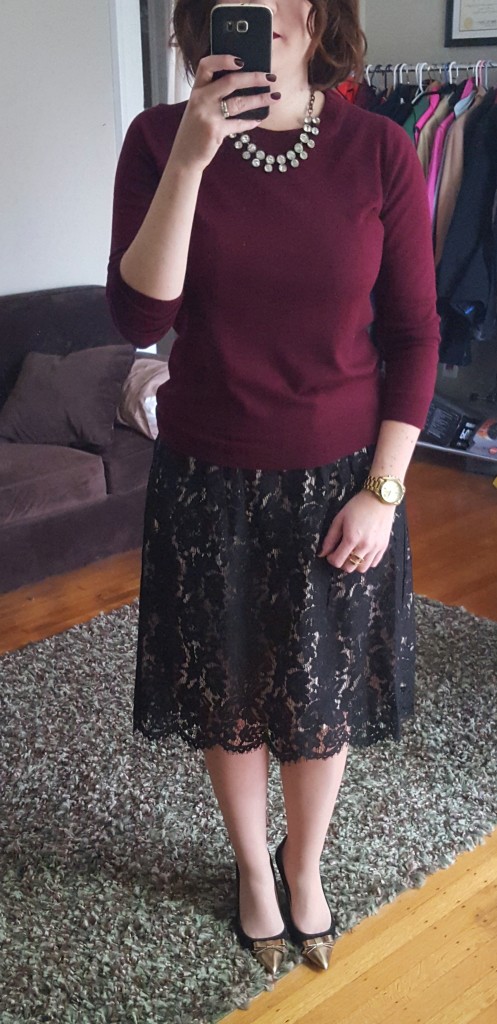 Some gold bow shoes, gold jewelry and a bold lip to match my sweater completed the look. I absolutely rock a bold lip at work now and then, although after a day of coffee and constant water drinking, it is a bit taxing to keep up with it so I often don't bother. But I wanted to give my new Kat Von D Everlasting Liquid Lipstick in Vampira a try and see how it lasted the work day. I needed one touchup after lunch which isn't too bad!
 Lipstick: Kat Von D, Nail Polish: Gelish Black Cherry Berry, Ring: W. Britt for J.Crew Double Band Ring, Watch: Michael Kors, Necklace: J.Crew (old)
I take that back…my J.Crew Bow coat which I found last spring on eBay completed the look. I have to say, today made my matchy matchy self pretty happy. Some days, when you're in the middle of work craziness,  it's the small things like matching your coat to your sweater and your lipstick…and your nails. A coworker told me that I looked too fancy for the office, but I took the compliment as a good thing.
Lastly, I will share a less exciting outfit from yesterday. It's "just" a black dress – the J.Crew Structured Zip Knit Dress – but one I am glad I added to my closet. While figure hugging, this dress smoothed me out in all of the right places and overall made me feel confident all day. I liked that this dress had silver zippers instead of gold and I honestly don't mind the exposed zipper now and then. The dress was screaming for a fun statement necklace so I kept everything else basic with black tights and J.Crew Chelsea Boots to keep the all black look.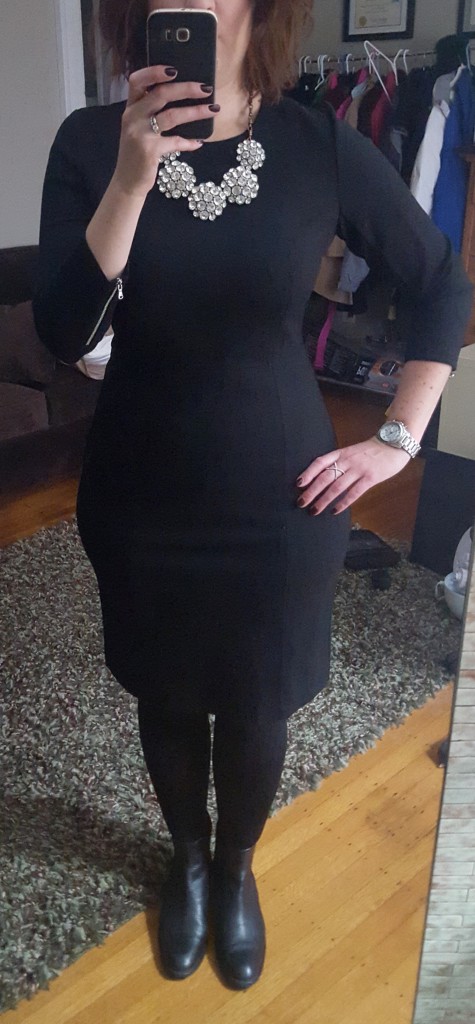 Necklace: J.Crew Crystal Rosette Necklace Watch: Michael Kors, Ring: Baublebar
It was hard to capture just how flattering this dress is in person. I took my regular J.Crew dress size. The material is very stretchy, more elastic than a ponte knit but nice and soft. This is going to get a lot of wear this winter.
Even though I have been loving my pants lately, it's always fun to get dressy and today's lace skirt and rich berry tones really got me excited for some holiday outfits in the weeks to come!
Would love to hear what you think of the outfits, and thanks for stopping by!