Hello! I had planned on not posting again until the next rollout at the end of the month or to write a post about my Rent the Runway Unlimited experience, but sometimes things don't go as planned and you make a last minute trip to the store to check out some of the mid-month new arrivals. I did succeed in leaving the store without buying anything, but I do have a few items on my wishlist.
First up, the Cotton Skirt in Liberty® Floral Symphony and the Cotton Jackie Cardigan with Eyelet Lace
I'm wearing a medium in the cardigan and a size 6 in the skirt, both of which were good. I may have been able to size down in the skirt, but the 6 was plenty comfortable. The cardigan is pretty but not completely my style and I would have preferred it to be more of at true mint color than this dusty blue mint shade. This also comes in black and I can't seem to find this color on the website anymore so it's either sold out already or they've pulled it off the site for the current promotion. The skirt is pretty but I would have rather had a pencil skirt in the print. I also expected the print to be a bit more saturated than it was, as most other Liberty prints are. The skirt is a pull on and there is no zipper.
Next up, the French Girl Jacket in 365 Crepe and the Striped Boatneck T-Shirt.
The blazer was an in store return in a size 8 so I tried it with the tee (wearing a small in the tee so it's true to size). The tee is a little lighter weight than some of the other striped t-shirts of past which I was a little bummed about, but it isn't sheer. The blazer is an 8 which is a size up for me but it worked buttoned as you can see and looked a little more relaxed unbuttoned. I really liked the blazer and am already contemplating which color I'd like. I would probably try a 6 but the 8 wasn't bad so if you're between sizes I'd go with your larger size. It is a similar poly crepe to the easy pants.
Next up, the Sleeveless tank in Liberty®Floral Symphony
I am wearing a 4 in this top, so the smaller of my two blouse sizes. If I were to get something in this print, I'd go for the top. I think it'll be great with white jeans and there are several different color pairing options for blazers and cardigans and it is work appropriate. It is cotton which makes it a little more casual but I didn't mind that. I tried it also with the Cropped Lightweight cardigan which was too cropped on me and the light pink I tried kept reflecting on the light in the dressing room so I couldn't get a good photo of it, hence my pasty white arms in all their winter glory.
Next up, the Silk Twill Button-Up in Tiger Print and the Going-Out Blazer with the Slim Boyfriend Jean in Charles Wash
I'm wearing a 6 in the blouse, a 6 in the blazer and a 28 in the jeans, all regular size for me. The blouse wasn't really on my radar as it's not a color scheme I'd wear a lot and I am personally not a critter fan (I did like the pants in this print with the dark green background, though). This blazer was a love for me – the 6 is the larger of my blazer sizes (usually a 6 in suiting/4 in Regent/Parke blazers) and this was an exact fit. It comes in grey, black and navy and while I don't really need a black blazer, this is definitely as the name suggests, a good "going out" blazer and I can see it being a weekend staple. I like the collarless styles of both this and the French girl blazer for a change of pace.
Next up, the Silk Twill Crossover Pant and the Tie-sleeve top with Pintucks.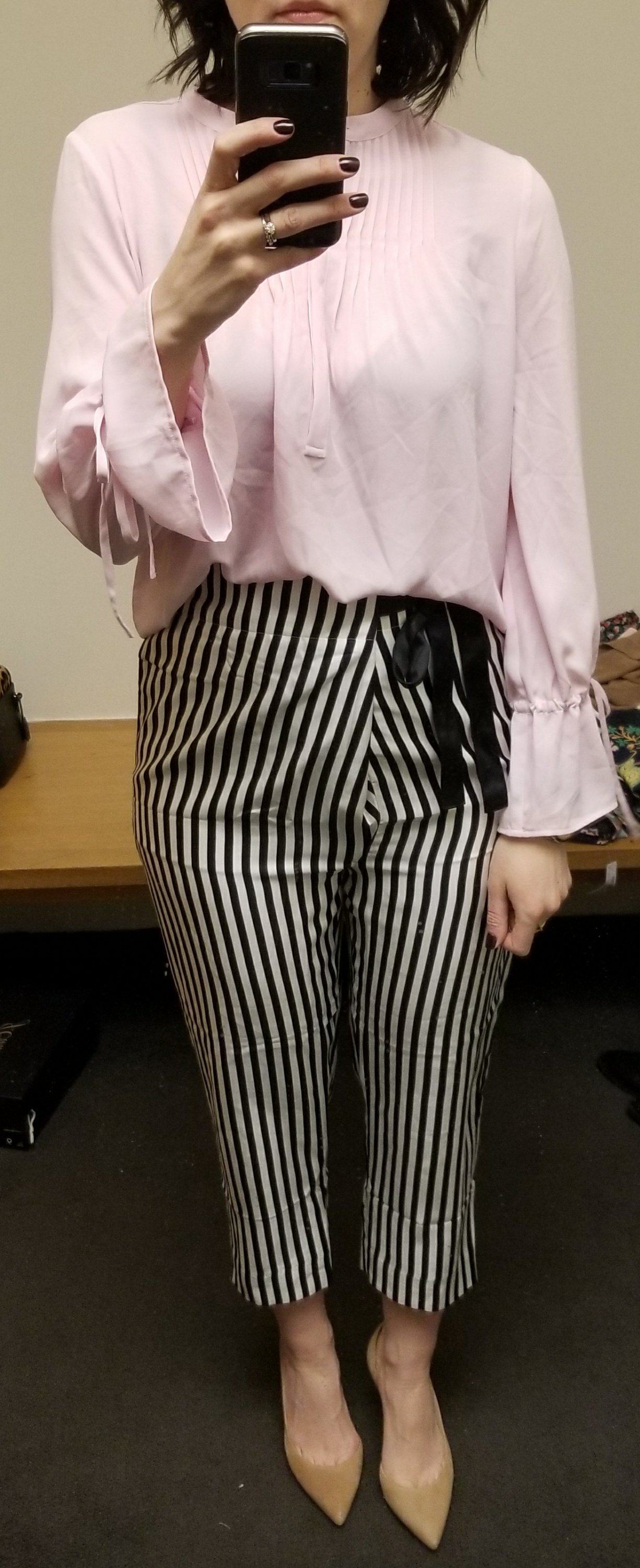 These pants were also an in-store return and they are clearly too small, in a 6 which is a size smaller than my usual pant size. I found them to be a little ridiculous out of the gate, however once I saw the photos of how these pants should look, I realized that my regular size would have made them look much better. There is no zip fly on these, the pants fold over and button/clasp at the waist. These are a pass for me but there are definitely people who will rock this look. I think I'll stick with trying the Striped Silk Top instead. The top was just ok, I have had trouble getting in to the bell sleeve trend. As you can see, the pink is a bit sheer.
Next up, the static portion of the program and the Drapey Wrap-Back Jumpsuit.
This caught my eye out of the gate but I was skeptical about the pant leg length. It does come in petite and tall and I thought perhaps I'd try the tall and have it let down in the hem to get a better length. That doesn't always work since a tall version doesn't usually just mean longer legs, it means longer in the torso as well which I don't necessarily need. I am wearing a 6 in this which was perfect and I didn't mind the length, but I did mind the amount of static it gathered, mostly due to the dry winter weather and the lightweight nature of the fabric. This would have been so much nicer as a thicker crepe. The back is cute and I will be able to make a bra work with it but it negates it being remotely close to work appropriate unless I kept a blazer on all day. This also comes in a pretty deep berry color well. I'll keep an eye this one and may purchase for the right price.
Next up, the Merino Wrap Sweater
I'm wearing a medium in this and the static was the only saving grace keeping this sweater from flashing anyone. It is a real wrap and would require some garment tape and a less busty bra before I could pull this off. I think my regular sweater size of a small would have been too skimpy and I liked the more generous fit of this size. This comes in several colors including black, navy, olive and copper rose. It is a very lightweight merino, lighter than the Tippi sweaters.
Last up, Long-Sleeve Shirtdress.
I'm wearing a small in this dress which just fit (usually a 6 in dresses). The buttons and the straight skirt aren't the best fit for my hips and going up to a medium would have meant the top would have been too big. This personally isn't for me – I think the combination of no collar and the long sleeves had it feeling off for me. I would have liked it better with short sleeves. It also comes in black. I did like the length and it is a nice spring/summer weight cotton.
So there's the latest round of J.Crew try-ons. Anything you're loving? Would love to hear what you think and thanks for visiting!