Next up is the Textured Lady Cardigan in pink/navy. This also comes in green and navy and there is a dress version as well. I tried this in a medium and while I was wearing one of my more busty bras, there was quite a bit of gaping between the buttons. I usually take the larger of my two sizes in these types of cardigans and this was no exception. This was pretty lightweight and not a must have for me but I can think of a few J.Crew fans who would look fantastic in this.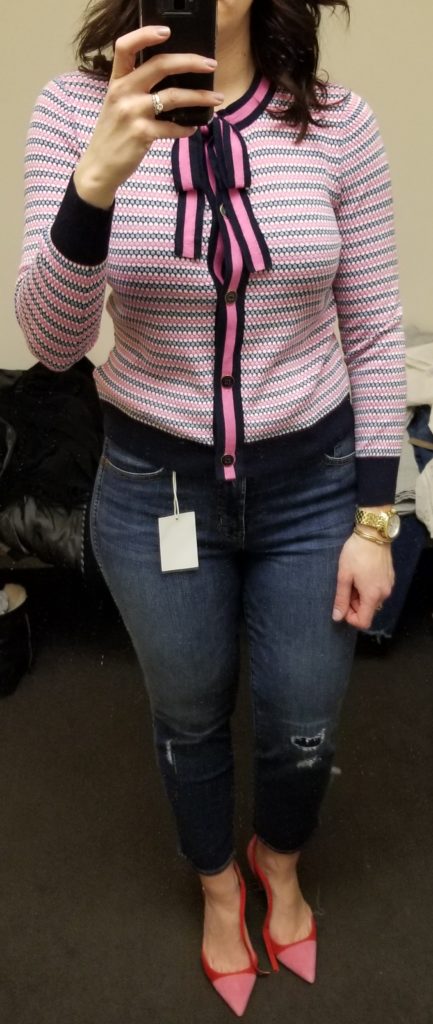 Next up, the Tiered midi skirt in Liberty® Pavilion black floral which I've paired with the Tippi Sweater in navy.
I am wearing a size 8 which is my usual skirt size and this was cut a little smaller in the waist but I still found it flattering. I really liked the fit on this skirt but I am not really a fan of this particular Liberty floral. I'm wearing my usual size small in the latest run of the Tippi sweater. I'm almost glad this didn't come in a different print because I would have been more tempted to buy it.
Next up, the Sleeveless Faux Wrap Dress in Gingham Cotton Poplin.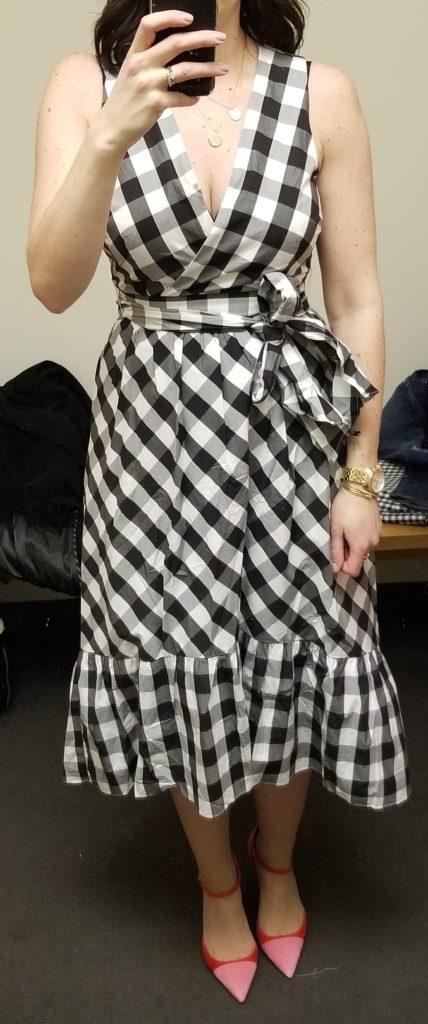 I tried this on at the request of my stylist and busty bra aside, I thought this was a really cute dress. There is a snap at the bust that I had no hope of closing but with better undergarments I liked this more than I thought I would. I am admittedly not one that needs all of the gingham in my closet, but I like the larger print and I might consider the solid version of this dress. I'm wearing a 6 which is the smaller of my two dress sizes – I didn't try the 8 for comparison.
Next up, the Martie pant in bi-stretch gingham.
I owned these pants a few sizes ago and sold them and thought I'd try them again. I'm wearing a 10 in these which is a size up from my usual pant size and they were tight. So I'm not sure if that means I've been enjoying too many carbs lately or J.Crew's sizing is all over the place. Considering my other clothes fit in my usual size, I'm going to go with the verdict that their sizing is all over the place 🙂
Next up, the Lady Jacket in Multi Color Metallic Tweed with braided trim.
This caught my eye in the store. I tend to admire these rather than purchase them – I own one from several years ago that I bought second hand and find that I reach more for a traditional blazer than this style. This blazer does not have a matching skirt but there is a shift dress that matches. The tweed in this is sort of a mix of candy colors – mint, pink, yellow, blue and a bit of metallic that is not overwhelming with a black trim. I'm wearing a 6 which was fine with a thin merino sweater but felt a bit tight with the blouse. I was thinking that I do like these with jeans and now that I may have more flexibility in the future to wear jeans, I may need to work another of these in to the rotation. This didn't feel as thick as the lady jackets of years past, which I think is our new normal. The lining was a shirting stripe, likely polyester.
Next up, the hammered satin top in painter print.
I am always on the lookout for good blouses and often gravitate towards black and white (and then for some reason feel limited on styling them). I am wearing a 6 in this which was a good fit. This style comes in an array of solid colors as well. The satin material wasn't shiny which I appreciate and the hammered detail wasn't as noticeable with the print. The boxy shape of this would lend better to be styled with jeans or a skinny pant vs trying to tuck it in as I found it a lot of material to tuck, but not completely unmanageable. I'll keep my eye on this one.
Next, the Wide-Leg Trouser Jean in white.
These immediately caught my eye online and every year I have to stop myself from buying white jeans in February because I won't be wearing them until May (I can't seem to bring myself to wear them in winter like so many others do…). I'm wearing my usual 29 in these which were big in the midsection but too short with heels. The website image shows a model with a much straighter shape and as you can see, having curves alters the look of these. I think a 28 tall would be the right size for me and I might try the 29 tall for comparison as well. I felt like I was all thigh and tummy in these so I'll need to order a tall size to compare if I decide I want to add these to my wardrobe. I have a few white skinny pairs that are in constant rotation all summer and I like that the boot cut/wide leg cut is coming back in style but finding the right fit is essential. I also think I would prefer less of a hem at the bottom. If you're between sizes you can probably size down in these. I'm 5'8″ and they were too short with 3″ heels and I don't prefer the way the wide leg looks with flats.
And now a few of the heart print items from the last rollout – the first being the A-line midi shirtdress in heart print with removable belt .
This is another dress that needs different undergarments. I felt very retro in this. The belt is really wide and I would have preferred it to be slightly less wide but it did create a good hourglass shape (which I don't need much help with!) I'm wearing a 6, I may have tried an 8 just for a little more room. This dress is sold out in a lot of sizes online. I find the print to be a bit limiting, I would likely only wear this for a few weeks in February.
Lastly, the pleated skirt in 365 crepe heart print.
I am wearing an 8 in this which was the right size. I liked this more than I thought I would. The pleats seemed to be very loose on the skirt, which seems to be the way the skirt is made. At first I had trouble telling that it was pleated. I'm not sure what this would mean in terms of washing it as that's always my worry with pleated skirts although so far I've not had any issues with the ones that I've purchased in the past few years. I've gravitated towards a fuller skirt as of late and while this has the heart print as well I find it to be a little less obvious and it's a fun skirt for spring. This does come in tall and petite as well. I thought the regular was fine but I wouldn't have minded a tall to have it fit right below my knee.
So, there's a few try-ons from the latest rollout. From what I understand, J.Crew is back to a once a month schedule for releases versus every two weeks. Did you have any favorites from this rollout? Would love to hear what you think and thanks for stopping by!