Hello! I am back with some J.Crew early fall new arrivals. I did most of my J.Crew shopping online this summer and even at that, didn't do a lot of warm weather clothes shopping due to a late start to the season. But fall is here and it's always one of my favorite clothing seasons at J.Crew and other retailers.
First up, the Short sleeve midi dress in Dutch Floral.
I'm wearing this in a medium which was a good fit. My top is more in the 6/8 range these days and my bottom 8/10 so I am usually an 8 in dresses, still sometimes a 6 if it's loose in the hips. I liked this better than the top which is more of a satin look. It is a little short waisted so I wasn't a huge fan of where it sat on my midsection. I also would have liked the sleeves to be a little longer. It's not a must have for me but I would consider it on sale.

Next up, the Tie Neck Blouse in Liberty Colombo Chambray.
My friend and sales associate was wearing this paired with wide leg white jeans and a tan belt and it was really cute on her. I'm wearing a medium in this picture and it wasn't a love for me but after I told her I was passing on it, she pulled the small off the mannequin and that fit was much better. The top is shorter and the sleeves are definitely a statement. I ended up purchasing this and I will have to challenge myself to wear it more than once or twice this season! I am really trying to only purchase staple items and use my Rent the Runway subscription for the flair items unless I think I'll wear it repeatedly…like I said, I'm trying!
Next up, the Pleated Midi Skirt in academic green which I paired with the Drapey Mockneck top in Dutch Floral.
I am wearing a size 8 in the skirt which is my usual size in pleated skirts. This also comes also comes in burgundy, blush, navy and dark periwinkle. I'm wearing a small in the blouse. As you can see, both the shirt and the skirt have a satiny look to them – I'm not sure I would wear together. I did really like the green and it would read well for holiday. I'd probably prefer it with heels or tights and booties. With my more relaxed dress code I will not get that much wear out of this so it wasn't something that I felt I needed right now. I'm wearing the Pointed-Toe Slides in Leather in my usual J.Crew shoe size of 9.5. The shoes also come in black and leopard print.
Next up, the Gathered bib top in drapey swiss in dark berry. (sorry for fuzzy photo!)
I'm wearing the small. I wanted to like this more than I did – after looking at the website shot of the model, perhaps it would look better tucked in to darker jeans but this fell short for me. I tried the medium too which looked too big and I felt like the small was a bit too short. This top would have been better served as a number sized top in my opinion. Other colors include jade, black and white.
Next up, the Short-sleeve shirt in Better Silk.
Jeans (J.Crew currently out of stock, similar here) and shoes (J.Crew old, similar here and here)
I am all about the easy neutral outfits these days and I really liked this blouse/denim/shoe combo. This blouse also runs S/M/L/XL and again, I'm surprised it's not a numerical size run. I'm wearing the medium which gives it a nice drape. The ivory was a bit sheer and I would probably wear a nude tank underneath. I didn't buy this one but it's on my wishlist. It also comes in black, jade and burgundy.
Next up, the Crinkle Chiffon Smocked top in Dot.
This was from the last rollout and immediately went on my wishlist. My store only had smalls and larges so I tried the small and it was ok in the body but short in the arms so I have a medium on order. I am a sucker for polka dots and love the high neck. This also comes in a burgundy/pink combination.
Next up, the Going-out blazer in black and white tweed which I paired with the Drapey tie-neck top in shadow floral.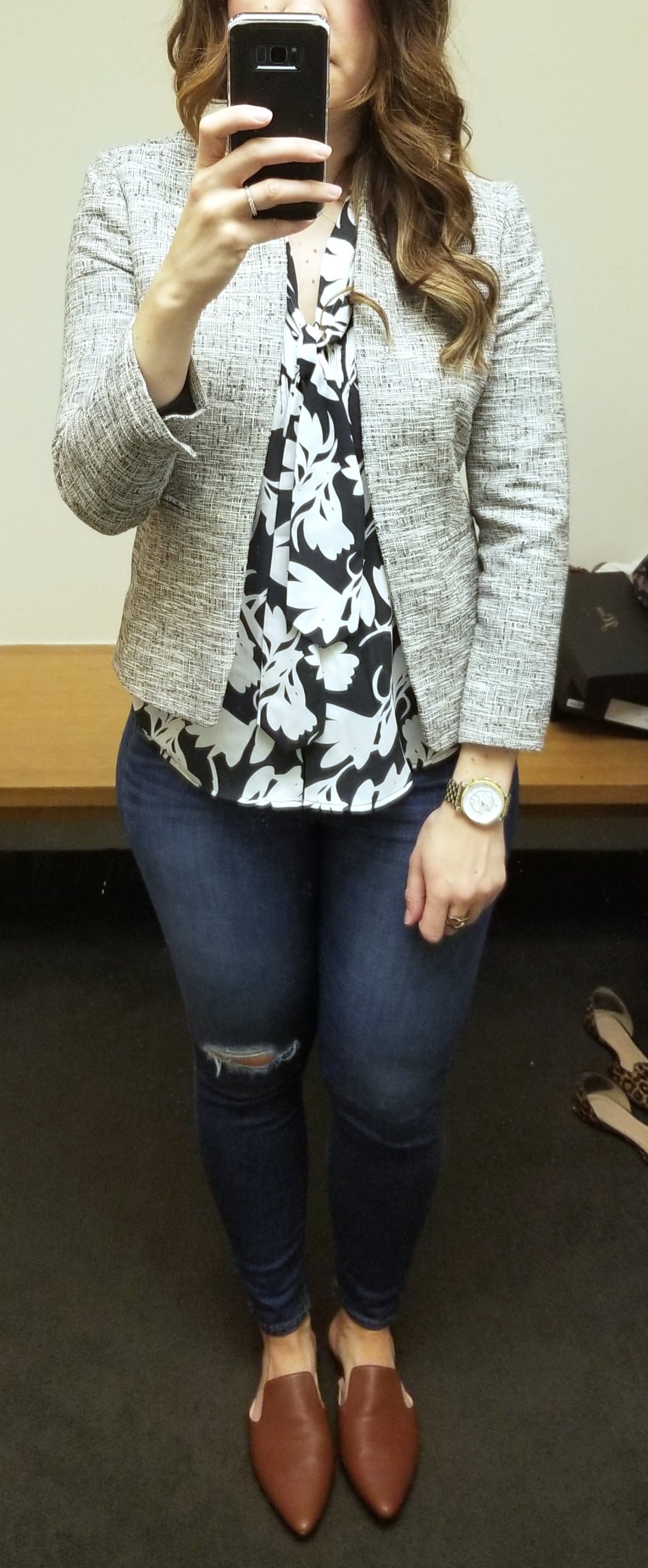 I paired these together more for the sake of quickly getting through my pile of try-ons and I ended up really liking this combination. The jacket is black and white and the blouse is navy and white but you couldn't tell at all when paired. The lining on the jacket is black which is really the only way I could tell the tweed was black. I have this silhouette of jacket in black and a navy/black/white tweed and it is a favorite. I'm wearing a 6 in both the blazer and the blouse. The blouse was still loose so it probably runs a tad large. This tie-neck blouse shape is becoming on regular rotation at J.Crew – I don't mind it but it is a fairly distinct style so I am being careful how many items I purchase in this style.
Next up the 10″ Highest Rise Toothpick Jean in Leopard paired with the Point Sur Boxy Pointelle Sweater (on sale!)
These jeans were listed as "highest rated" on the website so I figured I'd give them a try. I also have been a big fan of the 10″ rise jeans lately. I'm wearing my usual size 29 and a small in the sweater, which is clearly oversized. These jeans were a miss for me. I think they're really cute on the model online but they were not for my legs. I even tried to go up a size but all that did was add extra fabric sag to my midsection. I'm also not sure how much wear I'd really get out of them – I love me some leopard items but even with a more relaxed dress code I don't see myself wearing them to work much. They might have worked with a longer top or cardigan but if I have to dream up ways to make them work, they're a pass. Other people are a fan so you might just need to try them out to see if they're for you!
Last up, the Puff-Sleeve top in Leopard.
This was laid out on the front table in my store, but is currently sold out online. My store had severalso my guess is it'll show back up online or call your local store. I'm wearing a small which was fine in the body but a little small in the arms. The fit on this wasn't a home run for me – a little small in the shoulders and boxy in the body. With my shape I tend to shy away from boxy shapes. This colored leopard print also comes in a few other items – a dress, sleeveless blouse and slip skirt. The leopard "trend" is going nowhere so I can see why they're always looking for ways to reinvent it.
Well, that's it for the September new arrivals! Let's see how I do through the fall. Are you ready for all of the fall things? I'd love to hear what you think and thanks so much for stopping by!